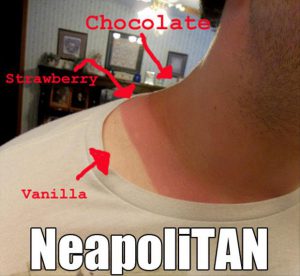 May 27, 2016, the Friday before Memorial Day is "Don't Fry Day." The "Don't Fry Day" campaign is meant to spread awareness of the relationship between sun exposure and skin cancer. According to the National Council on Skin Cancer Prevention, every hour, one person dies of melanoma. With summer fast approaching, we all need to adopt sun safety practices if we are not doing so already. Skin cancer is predominately a lifestyle disease, making it highly preventable. According to the Skin Cancer Foundation, "about 90 percent of non-melanoma skin cancers are associated with exposure to ultraviolet (UV) radiation from the sun." If the outdoors is where you want to be, then be sun safe. Apply sunscreen with a Sun Protection Factor (SPF) of 15 or more at least 30 minutes prior to going outdoors and reapply as directed by the label. Sun protection has become a very important health issue. The following are some prevention guidelines provided by the Skin Cancer Foundation:
Seek the shade, especially between 10 AM and 4 PM.
Do not burn.
Avoid tanning and UV tanning booths.
Cover up with clothing, including a broad-brimmed hat and UV-blocking sunglasses.
Use a broad spectrum (UVA/UVB) sunscreen with an SPF of 15 or higher every day. For extended outdoor activity, use a water-resistant, broad spectrum (UVA/UVB) sunscreen with an SPF of 30 or higher.
Apply 1 ounce (2 tablespoons) of sunscreen to your entire body 30 minutes before going outside. Reapply every two hours or immediately after swimming or excessive sweating.
Keep newborns out of the sun. Sunscreens should be used on babies over the age of six months.
Examine your skin head-to-toe every month.
See your physician every year for a professional skin exam.
Enjoying the outdoors is a wonderful thing, but even better is to do so responsibly when it comes to sun safety and skin cancer prevention. Slip on a shirt and use generous amounts of sunscreen. Wear a hat that provides ample protection of the face and neck. Lastly, protect the eyes with sunglasses. Pay attention to your skin and check often to avoid sunburn. Remember, lifestyle is strongly linked to skin cancer risk, and it is never too late to adopt these practices. Enjoy your summer outdoors by adopting safe sun practices and avoiding overexposures that lead to sunburns and potential health issues later in life.
0