Are you looking for a way to jazz up a fence, trellis, or arbor? Are you looking for year-round color in your garden? Are you looking for wonderful, fragrant blooms in the summer? Than evergreen wisteria (Millettia reticulata) may be the right plant for your place!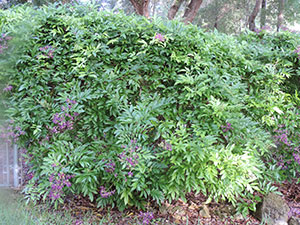 Evergreen wisteria is not only a beautiful vine, but it is an excellent alternative to that pesky, invasive Chinese wisteria. Sometimes referred to as summer wisteria, this plant is native to China and Taiwan. As you may have noticed by its scientific name, Millettia reticulata, is not a true wisteria but it is in the same plant family, Legumaceae or the bean family.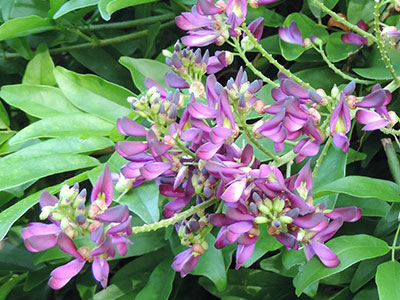 Evergreen wisteria is a woody vine that has glossy, thick green leaves and clusters of small, fragrant, purple flowers. The plant can reach a height of up to 30 feet, but can easily be controlled with pruning. It blooms in the summer, and often into the fall, with deep purple, pea shaped blooms. Although its common name states it is evergreen, it is often semi-evergreen in the Panhandle. Evergreen wisteria grows best in full sun, but can tolerate partial shade.
Evergreen wisteria can tolerate a wide range of soil pH as long as the soil is well-drained. It is a twining vine and may need a little help to start growing on a structure. It can be left alone to climb tall structures like pergolas and arbors, but you may want to selectively prune the plant to encourage it to leaf out at its base when training on a trellis or fence. Deadheading (removing spent blooms) will encourage an elongated bloom season.
Evergreen wisteria can help add an additional visual dimension to your landscape and it won't invade your space like its distant cousin.
0