Warm and wet weather in the Florida Panhandle presents the optimum conditions for the development of bacterial gall on loropetalums. Shoot dieback is usually the first and most noticeable symptom of the disease. The dieback can be followed down the branch to dark colored, warty galls that vary in size. The galls enlarge and eventually encircle the branch resulting in branch or plant death. Olive, oleander, and ligustrum are also hosts for the bacteria that causes the galls, Pseudomonas savastanoi.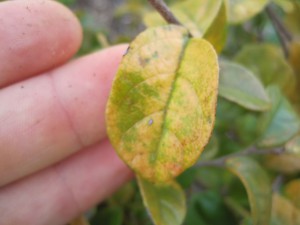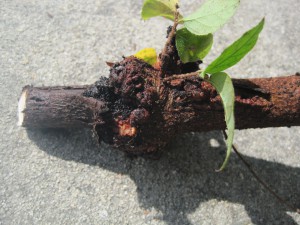 The most common source of bacterial gall is from the plant nursery. Prior to purchase, inspect plants for galls near the soil line. If plants have already been installed in the landscape, remove any branches containing galls. Pruning cuts should be made several inches below the gall. After each cut, dip pruners in a 10% bleach solution or spray with isopropyl alcohol to avoid spreading the disease to other parts of the plant or other plants. Prune during dry weather.
The best control for bacterial gall is selecting good quality plant material. For more information on this disease, please visit: Bacterial Gall on Loropetalum. More information on disease issues in the home landscape can be found at: Lawn and Garden Plant Diseases.
0