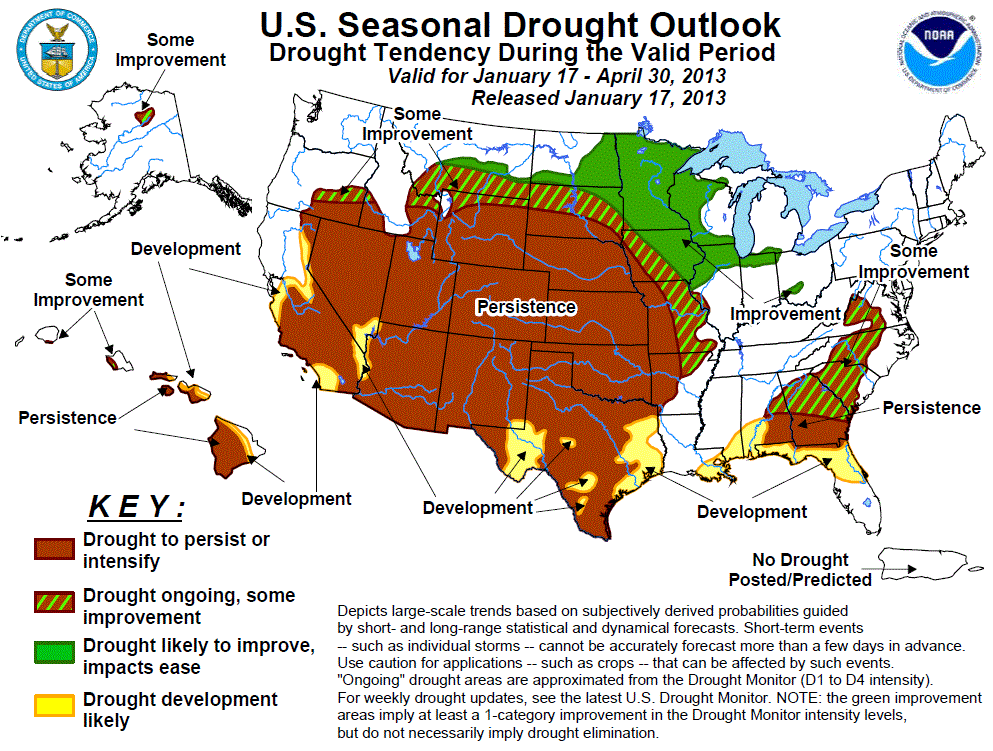 Provided by: Clyde Fraisse, Agricultural & Biological Engineering cfraisse@ufl.edu
90-day Outlook Summary
A seasonal forecast is the best available prediction of what our climate will be like in the next few months. It is different from a weather forecast in that individual events are not being predicted; rather the average conditions over the next few months are predicted.
The current 3-month seasonal forecast (Feb-Mar-Apr), from the NOAA Climate Prediction Center, shows that drier-than-average conditions might be expected for most of North Florida, Alabama and Georgia. There are no clear indications of temperature departures from average for most of the Southeast. Neutral conditions continue in the Pacific Ocean.
Latest Seasonal Assessment (NOAA CPC) – "Since the beginning of 2013, drier and colder weather prevailed over the West after a relatively wet December. In the Great Basin and central Rockies, 2-week temperature departures averaged 10 to 20 degrees F below normal. Farther east, however, a series of slow-moving cold fronts embedded with surface lows brought surplus precipitation to the southern Plains (eastern New Mexico and Texas), parts of the central Plains (western Oklahoma and central Kansas), and the lower Mississippi, Tennessee, and Ohio Valleys, providing some relief from the drought. Portions of the northern Rockies and Plains and upper Midwest also saw above normal year-to-date precipitation. Temperatures in the eastern half of the Nation have quickly moderated after a cold start to the year. Elsewhere, mostly dry weather exacerbated drought conditions in the Southwest, central Plains and western Corn Belt, and eastern Gulf and southern Atlantic Coasts. In Hawaii, shower activity has increased during the past 2 weeks, mostly falling on windward locations and northern islands.
During the upcoming three months, a much drier pattern is expected across the southern third of the Nation (from central California to the eastern Gulf Coast). This limits the prospects for further drought improvements during the latter end of the wet season in California, Nevada, and western Arizona, and in fact increases the probabilities for drought development and deterioration in the tri-State area. This also marks a change from recent wet conditions in the southern Plains and western Gulf Coast as drought development and persistence is forecast for Texas by the end of April. Similarly, drought development and persistence is possible in the eastern Gulf Coast States, but less likely further north. In contrast, enhanced probabilities of surplus precipitation and subnormal temperatures across the northern U.S. (from the northern Rockies eastward to the upper Midwest and into the western Corn Belt) increase the odds for drought improvement. Some improvement is possible across the middle Mississippi Valley and the Piedmont, the latter area from wetness forecast for the rest of the month.
Additional weather forecast information: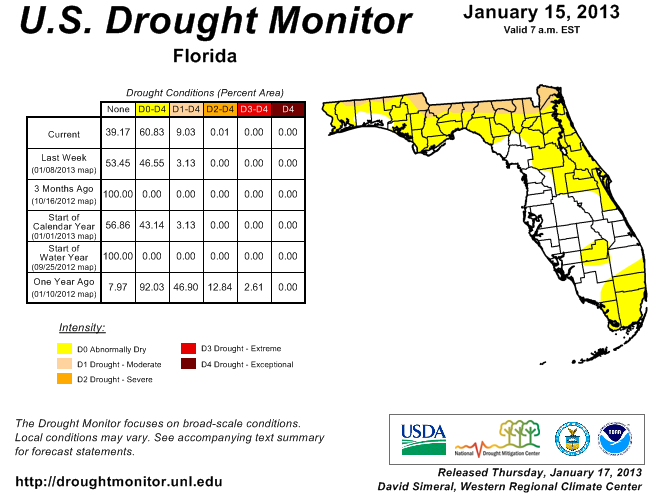 0