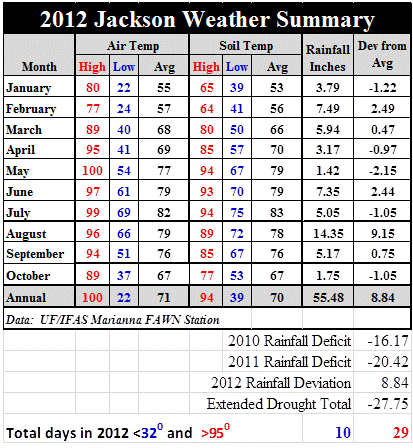 Marianna FAWN Summary
October was the first month since March where high temperatures stayed below 90 degrees. Below average rainfall aided crop and hay harvest, but was not favorable for the planting of cool season crops. For the year, Jackson County is still almost 9 inches above average. The entire growing season was much cooler than the previous two, with only 29 days of over 95 degrees as compared to 81 in 2011, and 83 in 2010. The cooler temperatures and above average rainfall certainly contributed to higher peanut yields for 2012. For more complete details, download the complete Jackson Weather Summary for 2012: Jan-Oct 2012 Jackson Co Weather Summary
North Florida Summary
For the whole Panhandle Region Quincy remained the driest location, falling well short of the average for the region. Live Oak received the highest rainfall once again and remains the wettest location across North Florida.

To acceess c
0