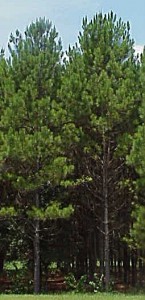 The Florida Forest Stewardship Program will host the Grow Timber Revenue workshop on Tuesday, June 19, 2012 at the Jackson County Extension Agriculture Conference Center, in Marianna. This program will provide guidance on timber management and marketing strategies to increase returns from harvests, reduce costs, and encourage forest management for its many benefits.
Currently, many landowners see little financial incentive for tree planting, management of current stands or replanting after the rotation. Planting and fuel costs are high and stumpage prices for timber products are low. All factors combine to discourage interest.
Registration begins at 9:00 AM Central, and the program will conclude around 3:00 PM. A $10 fee will be collected at the door to cover the cost of lunch and materials. Please pre-register online at
http://fsp-workshop061912.eventbrite.com/.
Those without web access can reserve a space by contacting the Jackson County Extension Office at (850) 482-9620. Space is limited so please register early. For more information, download: Grow Timber Revenue Flyer Questions about this or other Forest Stewardship Program activities can be directed to Chris Demers at 352-846-2375, or by email at cdemers@ufl.edu.
0