Although there are many types of artificial Christmas trees these days, live or cut trees are still very popular. Given the proper care, your natural tree can maintain its festive look throughout the holidays, keeping your safety in mind as well.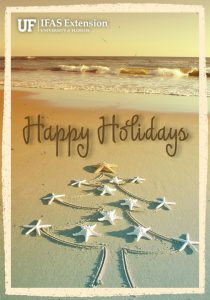 By now many of you have already bought and displayed your trees. However, it's not a bad idea to discuss tree selection for next year. Tree selection is important to maintain tree health and for decorating as branch sturdiness differs among varieties. White pine and red cedar are great choices for the panhandle climate, but have weak branches for hanging ornaments. Firs and spruces are better choices for this, except for our native species that require closer management.
Of course, the most important management measure to keep in mind is moisture level. A hydrated tree will reduce needle drop and keep the tree vibrant green. Don't forget about the fire hazard a dry tree can cause. Use water holding stands and replenish often, maintaining the water level above the base of the cut tree. Clean water is the best, no additives are needed. It will surprise you how quickly and how much a cut tree will absorb. A good rule of thumb is to have a water basin that will hold approximately 1 quart of water per inch of stem diameter. The proper size stand is important. Make sure it is proportional to your tree size. A potted tree will require approximately a gallon of water a couple of times a week, depending on size. Feel the needles and check the soil for dryness, and add water when needed.
Place your tree in the coolest area of the room. Keep the tree away from air ducts, fireplaces and direct sunlight. However, a tree left in a darkened room will also promote needle drop. A space with indirect sun is best. Any heat from these factors can deteriorate the moisture level needed for a healthy tree.
This is also a popular time of year to travel. Busy with holiday plans, it's easy to forget about caring for your tree while you are gone. If you are going to travel more than a few days, ask a friend or neighbor to water your tree, but give specific instructions. Remember, moisture is the key. The last thing to do before embarking on your holiday travel is to give your tree water. Be sure the lights are unplugged too.
Safety is the number one priority and should always be on your mind. Start by keeping any open flames or candles far away from the tree. Be careful with strands of lights and inspect before placing on the tree. If the wiring is showing age with cracks in the rubber insulation or the plug is worn, please dispose of them. Be careful not to overload circuit breakers as well. Always turn lights off before you retire for bed.
Take time to properly care for your tree. Your efforts will reward you with a beautiful, festive tree throughout the holiday season. For more information, please contact your local county extension office. Happy Holidays!
Supporting information can be found at the UF/IFAS Family & Consumer Science website: http://solutionsforyourlife.ufl.edu/hot_topics/families_and_consumers/christmas_trees.shtml
0