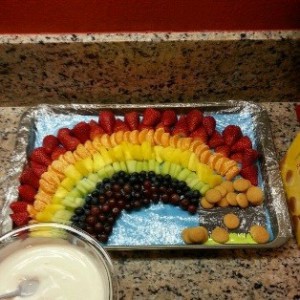 I just discovered a few years ago that my great-grandmother, whom I never met, was an Irish redhead. I found this very exciting. It made me much more interested in learning about the history of St. Patrick's Day, beyond wearing green. We live in a culture where we look for the next person or event to celebrate. For those who are Irish, St. Patrick's Day is a time to reflect and celebrate their culture and traditions. So, although you may not be Irish, why not learn more about the Irish culture and why they are proud of their heritage? At your March 4-H club meetings, it would be fun to celebrate St. Patrick's Day and incorporate the four-leaf clover and relate it back to the 4-H clover and what they both represent. Whether you are a 4-H leader or a teacher or parent looking for creative ideas, I hope you enjoy this brief history lesson and a few suggestions.
Let's start from the beginning…
Who was St. Patrick? St. Patrick is the beloved patron saint of Ireland. The Irish are famous for spinning exaggerated tales. Despite the infamous stories traditionally attributed to St Patrick, this is what we actually known about his life. We do know that St. Patrick was born in Britain and that at the age of 16 was captured by Irish raiders who attacked his family's estate. He was then transported to Ireland where he was held captive for six years, living a solitary, lonely life as a shepherd. It was then that he became a devout Christian, embracing his religion for solace. From his writing, we know that a voice, which he believed to be that of God, spoke to him in a dream, urging him to leave Ireland. He did. Walking nearly 200 miles, St. Patrick escaped to Britain and undertook serious religious training.
After 15 years of study, Patrick was ordained as a priest and sent to Ireland. His mission was to minister to Christians and to convert the Irish, then pre-dominantly pagans, to Christianity. Because St. Patrick was familiar with the Irish language and culture from his years of captivity, he chose to incorporate Irish ritual and symbols into his teachings rather than to eradicate Irish beliefs.
Why Do We Celebrate St. Patrick's Day in America? The history of St. Patrick's Day in America begins with Irish soldiers serving in the British army. The celebration's focus is based on a tale of the Irish and evolving political power. The very first parade in New York City in 1762, not only helped the homesick Irish soldiers connect with their roots through the familiar strains of traditional Irish music, usually featuring bagpipes and drums, but also helped them to connect with one another, finding strength in numbers. Over the years as nearly a million Irish immigrants fled to America in the wake of the Great Potato Famine, St. Patrick's Day parades became a display of solidarity and political strength as the often ridiculed Irish immigrants were frequently victims of prejudice. Soon enough, however, their numbers would be recognized and the Irish would organize and exert their political muscle, becoming known as the "green machine."
Today, although less religious, St. Patrick's Day celebrations continue to be a show of Irish strength and patriotism. So, put on your GREEN and get ready to celebrate!
4-H Club Meeting, Classroom, and Family Theme Ideas for March:
1) During a meeting or event read a "thought for the day" and use an Irish quote.
Example: May your blessings outnumber
The shamrocks that grow,
And may trouble avoid you
Wherever you go.
-An Irish Toast
2) Encourage the youth to wear green.
3) Provide or encourage youth to bring themed snacks to share, such as,
Sliced fruit designed in shape of a rainbow, with vanilla wafers as the pot of gold, and yogurt fruit dip
Rice Krispy treats colored with green food coloring and cut into four-leaf clover
Green colored pudding or popsicles.
Green fruit and vegetable trays (cucumbers, peppers, apples, grapes, kiwi).
4) "Make and Take" crafts, such as,
Handprint four-leaf clovers with green paint on white paper
Origami and/or construction paper four-leaf clovers.
5) Share these Fast Facts about Four-Leaf Clovers:
There are approximately 10,000 three-leaf clovers for every "lucky" four-leaf clover.
There are no clover plants that naturally produce four leaves, which is why four-leaf clovers are so rare.
Today, four-leaf clovers are associated with St. Patrick's Day, but they appear in centuries-old legends as symbols of good luck. The Druids (ancient Celtic priests) said they could see evil spirits coming and have a chance to escape in time. Four-leaf clovers were Celtic charms, presumed to offer magical protection and ward off bad luck. Children in the Middle Ages believed if they carried a four-leaf clover, they would be able to see fairies. The first literary reference to suggest their good fortune was made in 1620 by Sir John Melton.
The leaves of four-leaf clovers are said to stand for faith, hope, love, and luck.
It's often said that Ireland is home to more four-leaf clovers than any other place, giving meaning to the phrase, "the luck of the Irish."
If you have a passion for cultural heritage, consider becoming a 4-H volunteer. We need volunteers willing to share their rich cultural heritage with the next generation so that they can grow into a culturally competent workforce of tomorrow. For more information, contact your local UF/IFAS Extension Office or visit http://florida4h.org/volunteers.
0