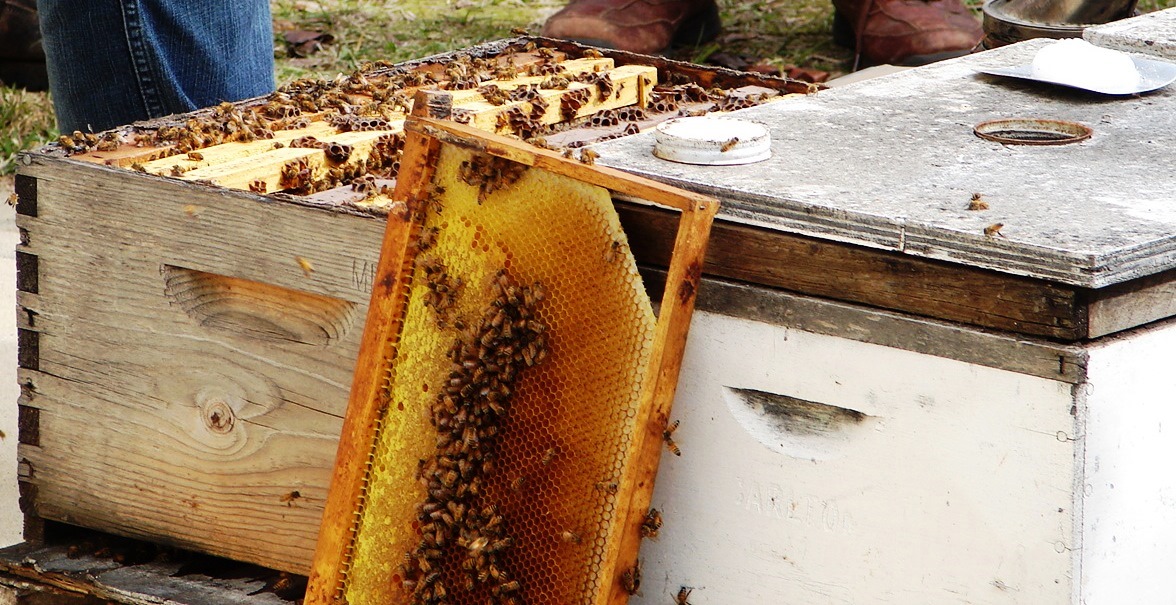 Over everything the beekeeper does hangs the honey producer's main objective: maximizing bee populations in time for major nectar flows. The next major nectar flows in north Florida will be spring; but beekeepers need to start working now in order to be ready for them next spring. Proper management of your bees in late summer and autumn provides for successful colony winter survival. This in turn will ensure strong populations of bees to work the 2015 nectar flow.
The objective of management at this time of year is to ensure that a viable population of honey bees goes into winter with a good chance of surviving. Young bees are important, but a good, healthy population of "winter bees" is even more important. Winter bees, bees reared in late summer/early fall, are adapted to storing nutrients for a long period of time. Summer bees do this less well.
The queen is the origin of this vital population of winter bees. The beekeeper must, therefore, take pains to ensure she is up to the job. There is a natural slowdown of brood rearing at this time, so a failing queen may not be detected by the beekeeper. If there is any doubt about the queen's condition, one should seriously consider requeening the colony. In fact, some beekeepers requeen in late summer or early fall on a regular annual basis. New queens lay eggs at higher rates than older ones, and the resultant population is larger. In addition, a first year queen is much less apt to swarm the following spring.
Below is a list of Beekeeping Best Management Practices for late summer and fall:
Late summer is the time of year in North Florida when Varroa populations begin to grow. Monitor your colonies closely and treat if necessary. Treatment options include: Apiguard, Apilife VAR, Apistan, Mite Away II, Hopguard and Apivar. Follow the product labels when applying these miticides.
As a preventive measure, consider treating colonies with Terramycin or Tylan dust to help control American and European foulbroods.
September is a good time to treat for Nosema disease using Fumigillin. Always follow product labels.
October – December are peak periods for hive beetle infestations. Options for treatment are: Beetle Blasters, Checkmite, GardStar, Hood traps, West beetle traps, and more.
Tracheal mites are of little concern to the Florida beekeeper. However, colonies can be treated if there is evidence of tracheal mite infestations during the autumn season. Grease patties are a simple treatment that can be used against tracheal mites. To make the patty, mix vegetable oil and powdered sugar until doughy but not sticky to touch. Place a pancake sized patty on the top bars of frames in the brood chambers.
There is a nectar dearth in many areas this time of year. Check colony food stores and feed colonies if they are light. Some areas may be home to plants that bloom in late summer/fall and provide enough nectar for bees to make and store honey. Check the Florida Beekeeping Management Calendar to see if these plants grow in your area.
August and September are very hot months. Make sure colonies are adequately ventilated and close to sources of fresh water.
Sources of information:
Florida Beekeeping Management Calendar, James D. Ellis and C.M. Zettel Nalen
Storey's Guide to Keeping Honey Bees; by Malcolm T. Sanford and Richard E. Bonney.
Honey Bees and Beekeeping: A year in the Life of an Apiary, Third Edition, Keith S. Delaplane.
UF/IFAS Beekeeping in the Panhandle Resources
UF/IFAS Small Farms and Alternative Enterprises – Beekeeping
0