From the sand to the ocean, camp to the pool, water parks to the playground – summer usually means high-energy for kids enjoying time off from school. It's a good idea to keep on hand a stash of cooling, nutritious snacks to satisfy ferocious appetites and picky palates.
One such snack for high energy kids is called BANANA SUSHI… Sushi is a Japanese food consisting of cooked rice, combined with other ingredients, usually raw fish or other seafood. Sushi is unique based on the preparation method and how it's rolled up and sliced into bite size pieces. This is a unique teaching opportunity to discuss the Japanese culture and its different style of foods and eating methods. When you use this recipe, explain to the kids they will be making their own fun and tasty version of Sushi using bananas.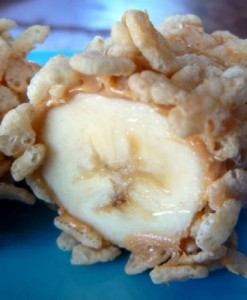 Banana Sushi
Prep Time: 5 minutes
Total Time: 5 minutes
Ingredients:
Banana, peanut butter, rice krispies cereal
Directions:
Coat a banana with peanut butter. (For a cool treat on an especially hot day freeze the banana several hours before preparing.)
Roll in rice krispies cereal.
Slice into bite size pieces (like sushi).
Eat and Enjoy!
Encourage the kids to use chopsticks and to learn more about Japanese eating utensils.
Here are some more healthy and refreshing DIY treats that kids of all ages can prepare on their own or in group settings such as day camps and 4-H club meetings:
•Make your own trail mix with a combination of nuts, dried fruit, dark chocolate chips, and cereal pieces. Try a selection of several healthy cereals, pretzels, nuts, and crackers.
•Dried fruit – banana chips, mango, and apple, papaya, pear, or peach slices.
•Plain popcorn sprinkled with Parmesan cheese or flavorful spices.
•Baked pita or bagel chips dipped in cool, refreshing hummus.
•Skewer cubes of firm cheese (cheddar, Swiss, Monterey Jack), alternated with chunks of fresh summer fruits.
•Fresh fruit salad – Cut up apples, pineapple, bananas, oranges, and berries or any fresh, in-season fruits. Throw in dried cranberries or raisins, and sunflower seeds or slivered almonds. Top with a dollop of yogurt.
•Berry parfaits – Layer fresh berries with granola and yogurt or freshly whipped cream.
Of course, as you make theses treats with your 4-Hers be sure to incorporate the importance of their nutritional value to their daily intake based on the current MyPlate recommendation. You can find more kid-friendly information on MyPlate at http://www.choosemyplate.gov.
0