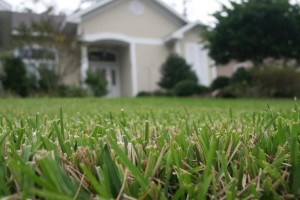 A beautiful lawn can add substantial value to a home. While providing an attractive setting for landscape ornamentals, a good lawn will reduce weed growth and prevent erosion. Selecting the proper grass for a specific location is a basic key to attaining these goals.
Five lawngrasses are commonly grown in Florida. Saint Augustine, Bahia, Centipede, Zoyia are most popular, while Carpet is used less often. This article will offer some facts which could assist the home gardener in choosing the best home turf species.
The most important thing to consider when selecting a lawngrass is the compatibility of that grass with the soil, climate, and growing conditions of a specific area. For example, along the coast a salt tolerant grass such as Saint Augustine should be planted. Attempting to grow Centipede or Bahia is asking for trouble. These grasses might be able to be established in a coastal location, but only with considerable expenditures of time and money. Likewise, if grasses are needed for a shaded lawn, plant Saint Augustine or Bahia, not Bermuda, which requires full sun.
After it is determined which lawngrasses will grow well in a given area, one should be chosen that is able to be managed properly. No lawngrass is maintenance free, but some types do require more care than others. For example, Bermuda produces the most beautiful lawns, but only if it's heavily fertilized, frequently mowed, and kept free of pests and diseases. If a high level of maintenance cannot be provided, it would be wise to plant a low care grass, such as Bahia, or Centipede. Saint Augustine is not difficult to maintain, but thatch and chinch bugs are common problems.
The amount of water a particular grass requires is another consideration. Bahia has excellent drought tolerance Saint Augustine ranks second and Centipede ranks third.
In recent year, dramatic improvements in Zoysia grass have been made by turfgrass breeders. These improvements include insect resistance, accelerated establishment, and overall performance. Zoyiagrasses are adapted to a variety of soil types and have good tolerance to shade, salt, and traffic. They provide and extremely dense sod that resist weed invasion, but certain pest can be problematic.
Out of all Florida Lawngrasses, Bahia is most resistant to pests. It's the best choice for landscapes heavily infested with nematodes. Saint Augustine also has good nematode tolerance, but chinch bugs are a serious threat to this grass. While it may be severely damaged by nematodes, Centipede has few other pest problems, providing it is not fertilized to heavily. Bermuda is plagued by many problems, in fact, it's particularly impossible to grow this grass without a continuous control program to cope with nematodes, insects, and diseases.
A a number of good lawngrasses grow well in Florida, but each has certain advantages and disadvantages as well as specific cultural requirements. Area climate, landscape soil type, amount of home site shade and sun, and the degree of traffic by people and pets are important considerations when choosing home lawn truf types.
Information was provided by J. Bryan Unruh, Associate Center Director and Professor, West Florida Research and Education Center, Institute of Food and Agricultural Science, Jay, Florida.
Also, feel free to contact your local county extension agent or refer to these UF / IFAS publications on trufgrass selection.
For more information on choosing a lawngrass contact the author Roy Lee Carter, County Extension Director – Gulf County Florida, at
639-3200.
1