Normal
0
false
false
false
EN-US
X-NONE
X-NONE
/* Style Definitions */
table.MsoNormalTable
{mso-style-name:"Table Normal";
mso-tstyle-rowband-size:0;
mso-tstyle-colband-size:0;
mso-style-noshow:yes;
mso-style-priority:99;
mso-style-parent:"";
mso-padding-alt:0in 5.4pt 0in 5.4pt;
mso-para-margin-top:0in;
mso-para-margin-right:0in;
mso-para-margin-bottom:10.0pt;
mso-para-margin-left:0in;
line-height:115%;
mso-pagination:widow-orphan;
font-size:11.0pt;
font-family:"Calibri","sans-serif";
mso-ascii-font-family:Calibri;
mso-ascii-theme-font:minor-latin;
mso-hansi-font-family:Calibri;
mso-hansi-theme-font:minor-latin;}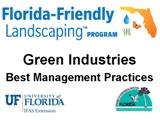 In 2014, a new law took effect requiring all commercial fertilizer applicators (for hire) to have a license. This law was passed in 2009 and took effect on January 1 of this year. A requirement that must be completed to obtain this license is to successfully complete a Green Industries Best Management Practices (GI-BMP) training class. One option to fulfill this requirement is to enroll in a GI-BMP class at the local county extension office. This training is provided by UF IFAS extension at various extension offices across Florida in both English and Spanish.
These classes instruct green industry professionals in techniques of fertilizer, pesticide and irrigation application that help reduce and prevent pollution caused by runoff and leaching. Runoff and leaching is usually driven by rainfall and creates non-point source pollution. By learning how to implement the safest methods of fertilizer and pesticide application into their daily work, green industry professionals can do their part in the effort to maintain and improve Florida's water quality and environment.
After receiving a certificate of completion, a person must pay $25 and apply to receive a limited certification for urban landscape commercial fertilizer application. A person possessing such a certification is not subject to additional local testing. The certification expires 4 years after the date of issuance and needs to be renewed at that time. Florida City and County employees that apply fertilizer as part of their job duties do not need to obtain the license to be in compliance with the new fertilizer rule, but they must complete the training and obtain a certificate of completion from the GI-BMP program.
[important]The Next GI-BMP class will be held Tuesday, March 11 at the UF IFAS Washington County Extension Office in Chipley Florida. This office is located at 1424 Jackson Ave (also US HWY 90) Suite A. It begins at 8am central time in the East Wing conference room. To register, contact Matthew Orwat or Cynthia Jackley at 850-638-6180 or mjorwat@ufl.edu Cost is $20.00 and lunch is provided.[/important]
The GI-BMP program has FDACS approval for 2 Core CEUs and 2 additional CEUs for the following licenses:
Private Applicator – Agriculture
Ornamental & Turf
Limited Lawn & Ornamental
Limited Landscape Maintenance
Commercial Lawn and Ornamental
Limited Commercial Fertilizer Applicators
(2) Limited Urban Fertilizer credit hours
Article by Matthew Orwat and Sheila Dunning
0