Make the pledge to Dine In on Tuesday, December 3rd. Dine In for better health – physical, social, and cultural.
Why
Join families and communities across the country as they "Dine In" on December 3rd in celebration of home cooked meals. Families who eat together at home not only eat healthier, but they improve family relationships and they save money. Remember, neighbors and co-workers are family, too. UF/IFAS Extension is encouraging more families to eat home cooked meals together. We are teaming up with the American Association of Family and Consumer Sciences to promote "Dining In for Healthy Families- Neighbors as Family" Get ideas at aafcs.org/fcsdday. Sign the pledge to eat together on December 3rd. Join the fun and post your photos to social media using the hashtags: – #FCSday and #healthyfamselfie.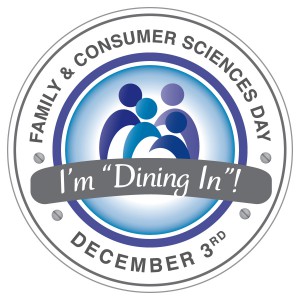 https://www.facebook.com/UFIFASNWFCS/videos/vl.550598805512295/649035612296155/?type=1
For more information or to find local "Dine In Day" events, contact your local UF/IFAS Extension office.
Sources:
FCS Day: https://www.aafcs.org/fcsday/home
0