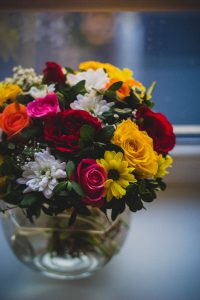 Mother's Day is Sunday, May 14, 2017, and it is a great time for us to celebrate our hard-working mothers. It is also a good time to talk to your mother about her health history. Knowing your mother's health history may help improve your own health.
According to the Centers for Disease Control (CDC), a family health history is a record of the diseases and health conditions in your family. They advise you to collect information about your entire family, including any major medical conditions so you can provide your doctor with an accurate picture of your family's health history and genetics.
8 IMPORTANT QUESTIONS TO ASK YOUR MOTHER:
HOW'S YOUR HEART? According to the American Heart Association, heart disease is the number one killer of women, and the genetic risk is high. Although you probably know if your mother has had a heart attack in her lifetime, you may not know if other family members have suffered from high blood pressure or heart disease.
HAVE YOU EVER HAD CANCER? It is important to know if your mother or anyone in her family has had a cancer diagnosis, but it is also essential to know what type of cancer, when it occurred, and what type of treatment was required for their cancer. This will help your doctor determine when to suggest certain screenings.
DO YOU HAVE ANY HISTORY OF TYPE 2 DIABETES? Type 2 diabetes is one of the diseases that can be passed down to you from your mother. If your mother has ever been diagnosed with diabetes, that information must be included in your medical history.
WHAT WAS YOUR PREGNANCY LIKE? Pregnancy-related conditions like gestational diabetes, pre-eclampsia, and fertility issues can be inherited.
WHAT WAS MENOPAUSE LIKE? Daughters can expect to reach menopause around the same time as their mother did. Some of the symptoms of menopause can be difficulty sleeping and hot flashes. These symptoms can be eased with foods rich in Omega 3s, such as fish oil, walnuts, seafood, and spinach.
HAVE YOU EXPERIENCED ANY MENTAL HEALTH DIFFICULTIES? Mental health issues can be inherited as well, so this information should be included in your family history.
HAVE YOU EVER HAD EYE PROBLEMS? Glaucoma is a disease that may typically appear in older adults. Heredity is known to play a key role in all types of glaucoma.
DO YOU HAVE OSTEOPOROSIS SYMPTOMS? A family history of bone density problems can indicate your own chances of developing osteoporosis or other bone difficulties as you get older.
Conversations about health can be particularly difficult between parents and children, as they are not the normal topic of conversation on Mother's Day. However, knowing your mother's health history can help you take better care of yourself and can be an opportunity to improve the health of the next generation in your own family.
Resource: https://www.cdc.gov/features/familyhealthhistory/index.html
0