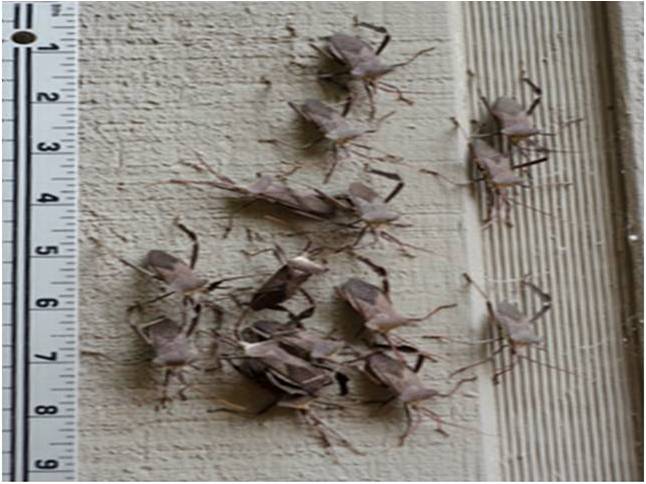 Leaf footed bugs are pests of many seed, fruit, vegetable and nut crops. They get their name from the leaf shape of their back legs. The insect is dark brown to black and about an inch long. Like ladybird beetles, leaf footed bugs can invade your home in the fall in search of a warm sheltered environment to spend winter. In some cases, this may be inside your home. However, unlike ladybird beetles, which can invade a home by the hundreds, leaf footed bugs numbers are considerably less.
In both cases, they enter the home through openings such as cracks, crevices, crawl spaces, attics, ridge vents etc. Once inside, they do not cause any damage, eat, drink or reproduce. Instead, they go into what is called diapause, a dormant state. If you encounter them in living spaces of the home, a common management practice is to collect them by hand or mechanically by removing them with a vacuum cleaner and then releasing them outside. Leaf footed bugs are related to stink bugs and will give off an odor if crushed or held to long in your hand. Once spring arrives, they will become active and you may find them roaming around living spaces again. Use the same control tactic to help them find their way to the outside of the home.
It should be noted that ladybird beetles are considered a beneficial insect that feeds on crop-damaging insects such as aphids, mealy bugs, and white flies. On the other hand, leaf footed bugs are a serious pest of cotton and a direct pest of many seed, fruit, vegetable and nut crops.
Reference
Stink Bugs and Leaf-footed Bugs Are Important Fruit, Nut, Seed and Vegetable Pest
0