Starting a Fruit Orchard or an Edible Landscape? What Should I Grow? Fall is the Time to Decide !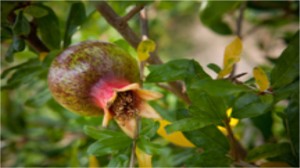 The avid gardener has heard on many occasions that fall is the best time of the year to plant trees and shrubs. Correct! Now is the time to start a fruit orchard or an edible landscape.  As the seasons transition into much cooler weather, now is the ideal planting season for hardy trees, shrubs and ground covers (Trawick, 2013).
In the fall, plants require less water to get established and stress factors associated with planting in full sun are reduced.  Although weather is cool, soil temperatures continue to be warm enough throughout the season to promote root growth.  Thus by planting in the fall, the plant becomes more established by having a better and more vigorous root system than a plant that is planted at springtime.
Deciding what to grow sometimes is limited by what is available in a given area.  Mail and online sales can be tricky if for those unaware about which fruit species perofrms best in Northwest Florida.  To aid in this planning process, a link to a University of Florida IFAS publication (HS1218) is included that contains a directory of certified Florida nurseries offering fruit and nut crops.  While it was developed to assist farmers locate fruit and nuts cultivars in Florida, it is helpful to begin thinking about what to grow and where to find it.  The publication also lists recommended fruit and nut species and cultivars for North Florida, including north-central Florida.
Fruitscapes is a University of Florida website dedicated to fruit trees in Florida, which will increase understanding of fruit tree cultural and pest management requirements for all readers. Also explore "Temperate Fruit Crops" .  Bookmark this webpage and refer to it as needed.  Also, consult with your county extension office in your area.