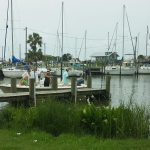 Anticipation of the catch is what thousands of Panhandle boaters will have on their minds as they leave the docks this summer for a day of fishing. However, a hasty departure in their excitement to get to that favorite spot may be the recipe for an outing some would prefer to forget; or worse, a tragedy that could have been prevented.
Here are a few things to consider when planning a day on the water that will greatly increase your odds of having success in what matters most; a fun day and safe return for all. Heck, you can always make up some fish stories.
Equipment Check: A basic safety check involves many key aspects that can make or break a trip.
Trailer: (current tag, tires, lights, tie downs, safety chain and winch condition)
Boat: (current registration, navigation gear, vhf radio, motor condition, fuel/oil check, navigation lights, battery, anchor and rope, boat plugs, paddles)
Safety equipment: (flares, fire extinguisher, personal flotation, emergency locator beacon, sound producing device)
Tools: (basic kit with vice grips, needle nose pliers, wire cutters, screw drivers, adjustable wrench, etc.)
Miscellaneous: (sun screen, food, hat, rain gear, polarized glasses, drinking water, cell phone, dry bag, first-aid kit, medicine)
Fishing gear and bait, of course! (Insert garage full of "stuff" here)
Refer to this Fish and Wildlife Conservation Commission (FWC) LINK to know the legal requirements for safety gear on the size vessel you will be using. These vary depending on the length and design of the hull. In addition, the FWC provides information on the Boating Safety Education Course that is a requirement for anyone born on or after January 1, 1988; and a good idea for us "more mature" folks too.
Even if you are not taking to the water in a powerboat, many of the same common-sense and legal requirements apply to personal watercraft, kayaks and canoes. This FWC LINK provides the requirements for class-A recreational vessels less than 16 feet in length and canoes and kayaks.
In addition to all of the "stuff" you'll need for a good day, you should also have knowledge of the waters that you will be boating on. Appropriate navigational charts are important but first-hand knowledge is always the best. If you are not familiar with the area you are boating on, at least talk to someone you know who has been in that area. It wouldn't be a bad idea to take along this friend, who would probably enjoy a day on the water too.
When you think about it, there really is a lot of stuff to keep up with when you are going out on the water as the responsible party. But the last thing you want to do is skimp on the safety aspects of your planned adventure. You would be better off to have left your favorite rod in the garage, next to your lucky hat.
by BLOGS.IFAS

Posted: June 3, 2017
---
Category: Natural Resources, Recreation
Tags: Boating, Panhandle Outdoors, REEL, Safety, Summer, Tips
---
---