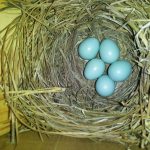 Bluebirds are very energetic birds. If you enjoy watching wildlife in your yard, now is a fantastic time to put up a few bluebird houses. You might gain hours of entertainment watching all the hard work these small birds put into gathering materials to build nests and gather food to feed their chicks.
March is when bluebird nest-building begins in the Panhandle. Believe it or not, these enterprising birds are likely to continue building nest after nest from now through July or even August!
The reason we can observe bluebirds more closely than many other birds is because they prefer to nest in cavities situated in open, sunny locations. These birds readily use nest boxes because natural cavities in clearings are quite scarce.
If you're considering putting up a nest box to attract bluebirds, be aware that these birds are rather fussy when it comes to selecting nest boxes. They prefer structures that are approximately 4"x4"x9" or 5"x5"x9". These structures could be rectangular, cylindrical, or wedge-shaped. It's best if the entrance hole is 1.5" in diameter, and located about 5" above the floor of the box. Each house should be mounted on a pole 4-8' above the ground.
We have been conducting an experiment the past few years to determine which of three common nest box designs local bluebirds prefer. The three types of houses we tested were:
traditional wooden rectangular house (4"x4"x9")
Gilbertson (cylindrical houses made of a PVC tube with a wooden floor and roof)
Peterson (wedge-shaped houses made of wood and covered in metal, with a sloping floor and roof).
We put up 18 houses during the summer of 2013 and have been keeping track of the number of nest attempts, eggs laid, and chicks fledged ever since. The ambitious birds using these 18 houses have fledged 124 chicks during the past three years! The standard rectangular wooden houses have performed best, with bluebirds laying an average of 8.3 eggs per house per year, and fledging 4.3 chicks per house per year. The other two house types performed similarly, with bluebirds laying an average of 4.3 eggs per house per year in each. An average of 2.4 chicks fledged from each of the Gilbertson houses each year, whereas 1.8 chicks fledged from each of the Peterson houses each year.
Regardless of which type of house you choose to put up for bluebirds, be sure to place the houses at least 100 yards apart. These birds are very territorial and will not allow other bluebirds to nest nearby.
by BLOGS.IFAS

Posted: March 22, 2017
---
Category: Natural Resources, Wildlife
Tags: Bluebirds, Local, Nesting, Panhandle Outdoors, Started
---
---