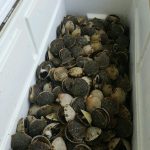 If you have done this phenomenal summertime activity, then you know what I'm talking about. And it's not just the kids that derive an amazing, nature-based educational experience. Anyone who puts on a mask and snorkel for their first scalloping adventure is about to have their world "rocked" in a good way. Gliding over the shallow seagrass meadows where these bivalves live will produce a sensory experience of sights and sounds like never before.
Florida's bay scallop (Argopecten irradians), is a mollusk with a well-deserved reputation for being fun to harvest and scrumptious on the dinner plate. However, before you hit the water, there are a few things to consider that will make your scalloping experience safe, enjoyable and educational. Information provided in this article should give you the basics and hopefully encourage you to participate in this Florida Bigbend/Panhandle area's best reality-show ever!
Know Before You Go: The Florida Fish and Wildlife Conservation Commission governs the rules regarding scalloping zones, license requirements, harvest limits, seasons, gear requirements, and boating laws. For detailed information visit the FWC website on the topic. Take time to review this information so that you are safe and legal when on the water.
Finding the Critters: As always, it is best to know someone who has already been out and can point you to a good location. Barring that scenario, simply search the internet or Facebook, or call the local dive shop or bait and tackle store that sells gear. People are generally very kind in this regard and will at least get you close to the right spots. When you get close, just look for where the boats are gathered. Don't waste your time trying to find a secluded spot of your own because those boats are there for a good reason. Move at an idle speed and be very careful approaching other vessels. You should be looking for swimmers at all times as some will stray far from their anchored boat with the dive flag displayed. Legally, you are supposed to stay 300 feet from a displayed diver down flag in open waters.
Boat Safe and Smart: The shallow nature of most scallop habitat requires that you understand tidal cycles in the area where you are boating. It is not at all pleasant to be stranded and waiting for the next high tide before you can go home with your catch. In addition to the inconvenience, there are other more serious consequences that may occur in this situation. Often, boaters will realize too late that they have been caught by low water and, whether out of fear or ignorance, start up the motor and attempt to leave in a hurry. This can result in a dangerous grounding at high speed, damage to the vessel or motor, and serious propeller scarring in the very seagrass beds that support the scallops and a host of other amazing species. Best bet, if you can't put your motor down without it being in the grass, attempt to wade it out to deeper water before starting the motor.
Keeping the Catch: If you are not shucking your scallops right on the boat as they are caught you need to protect them for the trip home. The safest way is to place your live scallops on ice in a cooler under shade. When cleaning the catch, it is handy to have a bowl with some ice water handy to drop the meats into for quick chilling. This also keeps them plump and moist for cooking. An old butter knife with a slight bend at the tip works well for shucking and many people even use a spoon if they don't already have an official scallop knife. Check out this Florida Sea Grant scallop brochure for a couple of tasty recipes for after the shucking is done.
In the end, you are ultimately responsible for whether or not you have a safe, enjoyable experience. So, follow the rules, watch the weather, know the waters where you boat, and have the time of your life. Oh, and take a kid or two along for the comic relief. When you see them surface, squealing with joy at the first bay scallop of their life, I guarantee everyone will be smiling.
by BLOGS.IFAS

Posted: August 1, 2016
---
Category: Natural Resources, Recreation
Tags: Experience, Kids, Natural, Panhandle Outdoors, Scalloping, Unrivaled
---
---