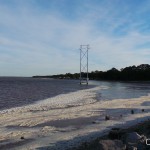 With the ongoing cold weather across the Panhandle, fish kills are being reported in many areas.
In the Panhandle, average water temperatures have dropped down to the 50s (degrees Fahrenheit) in many waterbodies. This is about ten degrees cooler than in normal years. Fish have a tolerance to temperature but when air and water temperatures decrease rapidly, fish kills may occur.
Fish kills due to cold weather are naturally occurring phenomena. In some cases there may be an ecological benefit. Exotic fish species that have adapted to Florida's subtropical climate may not be able to withstand these colder temperatures and large numbers of the populations may be eliminated. The decrease in the population of exotic species may allow for an increase in native populations.
The Florida Fish and Wildlife Conservation Commission's (FWC) Fish Kill Hotline provides maps of fish kills throughout the state on a monthly basis. If you see a fish kill you can report it by phone: 1-800-636-0511 or online.
The FWC Fish Kill Website also allows the user to report fish kills and search the current database for fish kills by dates, county and possible causes of fish kills. (See example search below)
Your search was:
From 12/01/2013
To 01/24/2014
All Counties
Suspected Causes Cold Weather
Note: Select an Asterisked (*) Column Heading to Sort by That Column
*ID
Report
Number
*Date
Reported
City
*County
Call
Category
*Probable
Cause
Water
Body Name
Specimen
Count
Comments
20048
122013
12/20/2013
Lakeland
Polk
Fish Kill
Cold Weather
N Pkwy Frontage Rd & Carabbean Rd
100s
Species Unidentified
20051
122713
12/27/2013
Treasure Island
Pinellas
Mortality – Mollusca
Cold Weather
West Gulf Blvd
100s
Conch
20057
010214
1/2/2014
North Port
Sarasota
Fish Kill
Cold Weather
El Prada West
100s
Sucker Mouth Catfish
20064
010814
1/8/2014
Tarpon Springs
Pinellas
Mortality – Cartilaginous
Cold Weather
Anclote River Boat Ramp
100s
Hammerhead Shark, Jack Crevalle, Pompano, Permit
20065
010814
1/8/2014
Panacea
Wakula
Fish Kill
Cold Weather
Lake Tucker / Alligator Point
100s
Trout, Sheepshead
20067
011014
1/10/2014
Fort Walton Beach
Okaloosa
Fish Kill
Cold Weather
Cinco Bayou
100s
Species Unidentified, Silverback, Yellow Bellie
20068
011214
1/12/2014
Palm Harbor
Pinellas
Fish Kill
Cold Weather
Anclote – Between Marker 32 & 36
Unknown Count
Unknown Count
20069
011214
1/12/2014
Tarpon Springs
Pinellas
Fish Kill
Cold Weather
Anclote – N Pointe Alexis Dr
Unknown Count
Jack Crevalle, Permit
20070
011214
1/12/2014
Lecanto
Citrus
Fish Kill
Cold Weather
Creek Off Pirates Cove
10
Snook
20071
011314
1/13/2014
New Port Richey
Pinellas
Fish Kill
Cold Weather
1/4 Mile S Anclote Key
100s
Jack Crevalle, Trout
20073
011314
1/13/2014
Crystal River
Pasco
Fish Kill
Cold Weather
East of Power Plant
Unknown Count
Jack Crevalle, Pompano
20085
011814
1/18/2014
Pensacola
Escambia
Fish Kill
Cold Weather
Heron Villa Lane – Perdido Bay
100
Species Unidentified
20090
012114
1/21/2014
Pensacola
Escambia
Fish Kill
Cold Weather
Riola Lane/Perdido Bay
Unknown Count
Species Unidentified
There are a number of reasons for fish kills besides cold temperatures; low dissolved oxygen levels, spawning fatalities, diseases and parasites, algae blooms and human induced fish kills.
To report a fish kill to the FWC Fish Kill hotline, you will need information such as the name of the water body, whether the water is fresh, brackish or saltwater, observations of the characteristics of the water, species and number of fish that are observed (if you don't know the species, you can check unknown), condition of the fish and if there are any abnormalities such as lesions, etc. on the fish.
If there are too many fish to count, estimate the total number by counting how many fish are in a 10' x 10' area, then estimate the total area that fish are present (along the shoreline and out into the water). Estimate how many 10' x 10' areas would fit into the total area, and multiply that number by the number of fish in the original 10' x 10' area. This will give you an estimate of the total number of fish.
Make a note of the weather conditions the past few days, air temperature, rainfall, cloud cover, wind strength and directions. Talk to your neighbors to determine if they have noticed anything unusual about the waterbody in the last few days.
For more information on understanding and reporting fish kills check out this publication from the University of Florida IFAS Extension:
by BLOGS.IFAS

Posted: January 26, 2014
---
Category: Natural Resources, Wildlife
Tags: Cold, Fish, Kills, Know, Need, Panhandle Outdoors, Weather
---
---