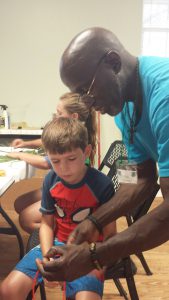 In a world where so many things don't make sense, Nate Grimsley has discovered something that does. Ten years ago, Nate's daughter won 1st place at the Leon County 4-H Tropicana Public Speaking Program and was awarded a full scholarship to Camp Cherry Lake. Nate had attended camp at Cherry Lake as a camper decades earlier and after being asked 9 years ago by 4-H agent Marcus Boston to consider attending camp as a volunteer he said "Yes!" and has never looked back. Today, Nate still serves as a chaperone for camp, but he also teaches art and crafts classes during the week. He has taught hundreds of youth how to make paracord bracelets and to weave fans and insect models out of native palmetto leaves. He is so good at his volunteer role that he is often asked to volunteer at other county camp weeks and even the State Shooting Sports Camp.
"Volunteering is rewarding- I love teaching and it is so fulfilling to give back and to set a positive example for kids. I had a learning disability when I was growing up, so I have a different perspective on how kids learn. I have one rule- they are never allowed to say 'I can't.' They can say they don't understand, but never 'I can't'. It is so rewarding to see them succeed."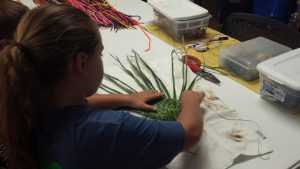 Nate's example has had a huge impact on his own children. Both of his children served as teen leaders for 4-H. His son's cabin always won "cleanest cabin" and his daughter was such a good counselor that he was invited to intern at a camp in Maine. "The leadership skills that my kids learned at camp helped both of them land their first jobs. It is a great program and parents and teens should take advantage of it." Marcus Boston and Stefanie Prevatt, 4-H faculty at the Leon County UF/IFAS Extension Office, have developed a strenuous but highly effective camp counselor leadership program. Even though it is a volunteer position, teens must complete an application, screening, interview and 30-hour training program in order to serve.
Even though Nate's kids have graduated out of the 4-H program, he continues to serve. In addition to being a certified chaperone, he is also certified to teach archery through the 4-H Shooting Sports program. Erlier this year, he taught workshops for teens at adults at the Northwest Teen Retreat and 4-H State Volunteer Leader's Forum.
"I am still involved because I just love kids and I love seeing them learn. I have always volunteered in different ways- school boosters, organized sports, but I love volunteering in 4-H so much that my wife and I are starting a 4-H club this fall- the 'Good Sense 4-H Club.' Our goal is to help kids learn how to problem solve and make good decisions now and later in life."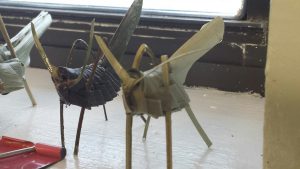 Nate encourages everyone he knows to volunteer. He holds down a full-time job, but has always been able to work with his supervisor to make time for volunteering. "Being a volunteer is a great means of networking. I have met so many interesting people through my volunteer work. I find joy in giving back to others. God has given so much to me- I want to pay it forward. Also, we need solid role models to teach kids how to be independent. 4-H is a great way to do just that."
4-H offers a wide range of volunteer positions to fit various schedules, interests and abilities. To find out more about volunteering and what is available in your community, contact your local UF IFAS County Extension Office or visit http://florida4h.org/volunteers.
0