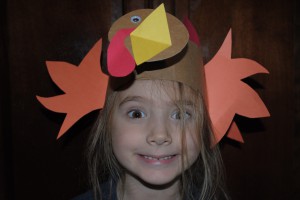 Gratitude is a tricky concept to teach children. It is essential for our happiness, but easily overlooked in the hustle and bustle of our busy everyday lives. With Thanksgiving approaching, it is a great opportunity to do an activity with your kids to help reinforce the concept of gratitude. Here are three simple ideas that you may want to incorporate into your Thanksgiving festivities (or anytime of year):
Thankfulness Tablecloth– purchase an inexpensive plain tablecloth (a muslin painter's drop cloth is an inexpensive option). Ask family members to write what they are thankful for with a permanent marker onto the tablecloth. You can assign each family member a different color, or use a different color each year. If your children are not reading age, ask them to draw a picture of what they are thankful for. Add to the tablecloth each year.
What Would It Feel Like Without Game…Ask each member of the family to think of something they are thankful for and then ask them to describe what it would feel like if they didn't have what they are thankful for. For example, I am thankful for a car that works and it would be hard to take my kids to school, soccer practice, and 4-H club meetings if I didn't have a car that runs.
Gratitude Time Capsule- Ask each member of the family to write or draw something they are grateful for. Have them date and sign the slip of paper, then place the slips of paper in a mason jar. Have the kids help dig a hole in the yard to bury the jar. Do this each year and then dig up the previous year's jar to see what has changed.
We hope you will consider adding one of these activities to your Thanksgiving traditions. Gratitude leads to Generosity, which is one of the Essential Elements youth need in order to grow up to be confident, capable citizens. Fostering a sense of generosity is just one way the 4-H volunteers and parents help youth. This time of year, 4-H Agents are especially thankful for the incredible 4-H volunteers who are making a real difference in hundreds of thousands of youths' lives all across our state. 4-H volunteers are the core of the Florida 4-H Program and we THANK YOU for your service! For more information about 4-H, or becoming a volunteer, contact your local UF IFAS County Extension Office or visit http://florida4h.org.
0