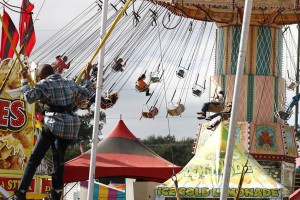 Fairs are often the highlight of the 4-H year. From a youth development perspective, fairs provide an opportunity for 4-H members to demonstrate new knowledge, abilities, skills and attitudes. When youth, parents and volunteers work together, fairs are a great way for youth to learn and also be recognized for their efforts. Being properly prepared is key to having a great fair experience.
Youth Responsibilities- Establish a realistic timeline to work on your exhibits. Be sure to read the rules and regulations outlined in the 4-H section of the fair book. Pay close attention to deadlines and specific requirements for each project. Make sure that your exhibit is your own work. Exhibits should be in good condition, clean, and labeled with your name, county, and club. Judging score sheets for individual projects can help guide you as you prepare your exhibit.
Parent Responsibilities- Parents can help 4-H members obtain the materials and resources needed to complete 4-H projects, but should never do the project for the youth. Encourage your child to set realistic timelines and goals so that they do not miss entry deadlines. Help them complete their entry form. Many counties offer workshops or clinics in the weeks leading up to fair to help members prepare- take advantage of these sessions!
Volunteer Responsibilities- Share information about fair exhibit categories and deadlines with your 4-H parents. Project leaders are a great resource to help members decide what to exhibit about their project. It could be something they made, or it could be a poster or tabletop display about what they have learned. If possible, assign an older, more experienced member to mentor new members as they prepare.
Consider having a mock judging of exhibits so that any last minute adjustments can be made. Invite parents to attend along with the members and use this meeting as an opportunity to provide feedback and recognition to individual members and to promote club unity and pride.
4-H members are encouraged to try something more challenging each year and to practice good sportsmanship. Exhibiting is designed to be an enjoyable educational experience not just a contest. If you would like to help 4-Hers in your county get ready for the fair, or serve as a judge for your fair, contact your local county Extension Office.
0