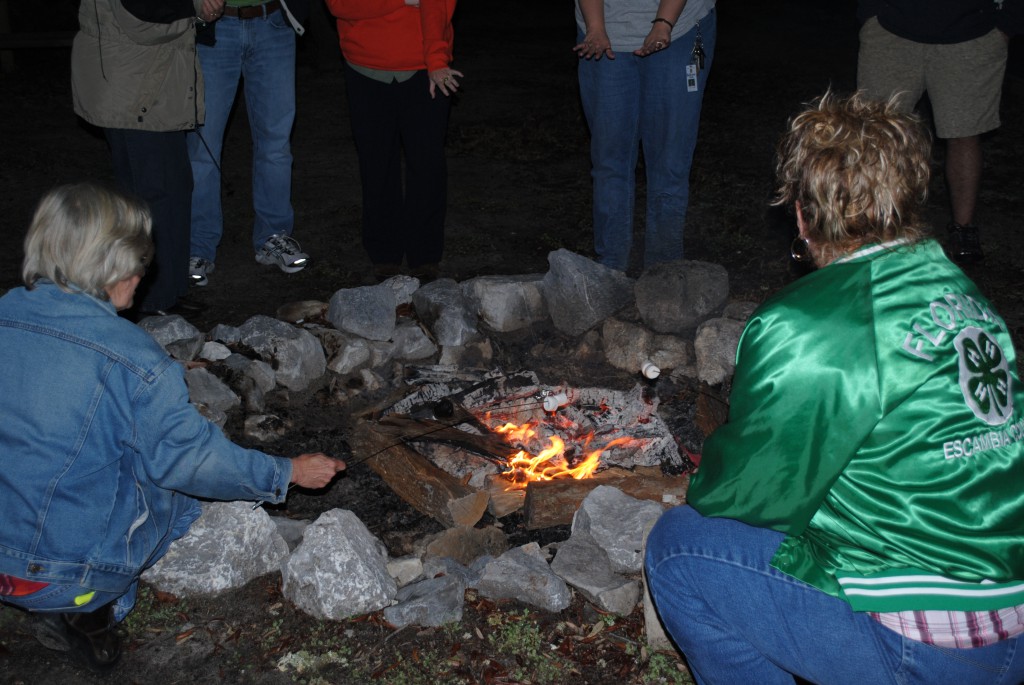 For many families, summer is synonymous with camping. Whether you are at 4-H Camp, a family camping trip, or a stay-at-home-vacation, cooking over the campfire is a fun (and yummy) activity that the whole family can enjoy. In support of the 4-H initiative for Healthy Living, we have selected 24-hours' worth of delicious and nutritious food that your family can enjoy over your next campfire.
Breakfast Camporitos– this is a campfire version of breakfast burritos. Dice and sauté the veggies of your choice (we recommend onions, bell peppers, tomatoes, and/or potatoes). Place sautéed veggies in a bowl for later. Next, scramble your eggs. To assemble, spoon veggies and eggs onto a tortilla, then sprinkle with cheese. You can add a bit of salsa if preferred. Wrap your tortilla burrito style, then wrap the entire burrito in foil. Camporritos can be prepared and assembled in advance, and stored in a cooler until breakfast time. To serve, place the foil packets over the campfire for 5-7 minutes until the cheese is melted and the burritos are thoroughly heated through. Serve with seasonal fruit and orange juice or milk.
Campfire Calzones (for lunch or dinner)- use store-bought pizza dough or your favorite recipe. On a 2-foot section of aluminum foil, roll out a portion of pizza dough into a circle the size of a paper plate. Next, spoon on some tomato or marinara sauce, sprinkle with basil and oregano. Working on just one half of the circle, sprinkle on 1/3 cup of mozzarella cheese and add your favorite pizza toppings (we recommend pepperoni or ham, spinach, olives, and mushrooms). Fold the half of the dough without toppings over, and crimp the edges tightly, next fold over the aluminum foil, creating an envelope and crimp the foil together securely to make a foil packet. Place your packet over the grate or coals of your campfire. Bake your calzone 5-10 minutes on each side, depending on the temperature of your fire.
Campfire Veggie Dip (a tasty snack)- for this recipe, you will need a large, empty can that has been washed out. In the clean can, layer the following ingredients: Black beans, shredded cheese, salsa, fat free refried beans, and fresh cilantro. Place the can on the grate over your campfire and allow the contents to heat up. Once the cheese is melted and heated through, remove the can. Wrap the can with a festive bandana and serve the dip with carrots, bell pepper, broccoli, celery, or tomatoes.
Campfire Chili and Corn Bread in a Jar (for lunch or dinner)- in a clean mason jar, ladle a cup or two of your favorite chili. On top of the chili, place about 1/3 cup of your favorite cornbread dough (made from scratch or use a mix). You can screw on the jar lids to make the chili easier to transport. Place your jars over the campfire and allow them to back for 30-45 minutes, until a toothpick inserted into the cornbread comes out clean. By then, your chili should be thoroughly heated through. If you prefer, you can assemble this recipe in a large Dutch oven, rather than in individual jars.
Desert Campfire Cones– Stuff a waffle cone or bowl (not the regular sugar cones) with diced fresh strawberries and bananas, along with mini marshmallows, chocolate chips, or even peanut butter chips. Wrap your cone or bowl with aluminum foil, and place over the grate of the campfire. Rotate the foil packet every 1-2 minutes. After 5-7 minutes, your cone should be ready to eat. If you are camping in the fall, try a variation of this technique with diced apples and caramel sauce.
To learn more about the Florida 4-H Program and our Healthy Living Initiative, visit http://florida4h.org. If you are interested in volunteering or donating to 4-H, contact Heather Kent at hckent@ufl.edu.
0