Dining out with family was the thing to do when we were so busy doing so much outside the home. Now that we're spending more time at home together, dining in is in again. You can start or continue the "in" thing by taking the pledge to dine-in healthy with your family this December 3rd. Why take this kind of pledge? Keep reading.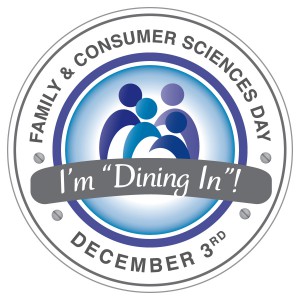 Making and keeping a promise has an upside
Keeping the commitment you made to eat healthy with your family means you get to reap the rewards of actually providing a healthy meal for your family. Additionally, keeping this promise can boost your self-confidence and self-esteem because you know you're making strides to take care of yourself and your family.
Become popular
Since dining in is in again, eating healthy with your family December 3rd makes you the admired one to your family and friends. As you dine in together, share praises and compliments as well as healthy foods, and enforce the feeling of belonging. After providing these trendy experiences often enough, you can begin to enjoy the adoration and respect of others around you. You can be popular.
It's cherished time
Schedule it. Block off time for it. Show up for it. You and your family are worth it. Start with the pledge on December 3rd. For best success for a healthy lifestyle change, make it a S.M.A.R.T. goal. That's one that is Specific, Measurable, Attainable, Relevant, and Time-framed. Here's an example: Every Tuesday at 6pm, our family will eat a healthy meal together that includes at least two vegetables and a whole grain.
You can keep it safe
If ventilation indoors is a bit stifling, eat outdoors when you can. Backyards, patios, and porches are great venues for your dining experiences.
Clean your hands often as you prepare and eat your meal. If you can't wash for 20 seconds with soap and running water, hand sanitizer is a good backup. Make sure your hands are completely dry after washing or sanitizing.
Cook foods to the proper temperature. See the Safe Internal Temperature Chart.
Put leftovers away as quickly as possible.
Tried and true or something new
Have fun. Try decorating to make your mealtime together special. Let all family members participate.
Make comfort food. But also try making something you've never had before, or try food prepared in a new way.
Look through the cabinets or in the garage for kitchen equipment you haven't used in a long time or have forgotten you had. Then use it.
For better health and wellness, make the pledge to Dine In with your family this December 3rd. Now is the time – especially since dining in is in again.
0