More and more homeowners are incorporating edible plants into their home landscape in order to enjoy the fresh taste of fruits and vegetables. Another trend to consider this coming cool season is to start a few common flowers that can serve as flavor enhancements for many of your dishes.
There are numerous plants that we commonly grow that have edible flowers but before striking out on your first taste test, be sure to research first. Always remember the common saying that every flower is edible once. Find a reputable reference guide from a friendly neighborhood Extension office for a list of common edible flowers, then be ready to start from seeds. It is best not to purchase transplants from an ornamental nursery unless you are sure of all the treatments for that plants. Nurseries are often selling these for beauty alone, not with intention that they will be eaten.
Here are a few edible flowers to try:
Pot marigold or Calendula is a wonderful cool season flower on its own. Brightly colored orange or yellow flowers improve the drab colors of our cool season and plants are sturdy annuals for borders, mass plantings, or in containers. Petals have a peppery flavor and add spice to salads and sandwiches. You may also add flowers to soups, fishes and butters for added coloring. Calendula petals can be a saffron substitute.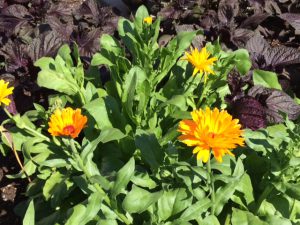 The well known dianthus is a great transition plant as our days cool and warm up again the spring. Use as front of the border plantings or in containers as a filler. When harvesting petals of dianthus, you will want to remove the white petal base which is a little bitter. The flavor is a little more delicate than cloves so you can add petals to punches, desserts, and fruit salads.
If you like a little more spice, try nasturtiums. We often plant these after the last frost and they grow until we get too hot. Since our fall weather is so unpredictable, you may be able to start some seeds for a fall planting and have flowers before our first cold spell. Either way, nasturtium flowers are often sliced for salads and sandwiches as a mustard or pepper substitute. You can also mince flowers to add to a butter. If you let some flowers go to seed, collect the unripe seeds to make a caper substitute vinegar.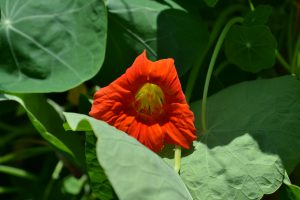 If you are going to use edible flowers from your garden remember to keep all non food labeled pesticides away from plants. Harvest flowers at their peak after the dew dries. Separate petals from other flower parts and if you have allergies be sure to remove any pollen. Place flowers in a moist towel in the refrigerator if you will not use them immediately. Rinse carefully so not to damage tender petals.
There are many other ornamental plants that offer edible flowers you may want to consider growing in the future. These flowers not only enhance the look of the dish but can offer unique flavoring from a locally grown source – your own backyard.
1