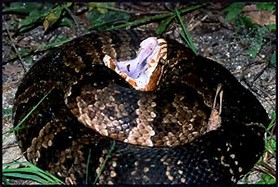 Also known as the Water Moccasin, this is a snake that is all too familiar with most Floridians… Or is it? Several non-venomous water snakes are often confused with the cottonmouth and are thus killed. That said, cottonmouths are common in the state near areas of water and many residents do have encounters with them. This fact sheet will provide information that help reduce negative encounters with this venomous snake.
DESCRIPTION
cottonmouths have a relatively thick-stout body with a broad head and thin neck
they are generally banded and can be brown, gray, reddish in color; many become darker with age and may be solid black; cottonmouths who frequent tannic waters may have cooper color to them
average length 36″ (3 ft.); max length 74″ (6 ft.)
JUVENILE DESCRIPTION
copper colored with a yellowish-green tipped tail; used to attract prey
HOW TO TELL FROM NON-VENOMOUS WATER SNAKES
there are several species of water snakes from the genus Neroidia which are confused with cottonmouths
the scales between the eyes on top of the head are larger than others on the head; they have narrow necks
Neroidia will have heads shaped more like your thumb and neck is as wide as head – NOTE: Neroidia CAN WIDEN THEIR HEAD WHEN THREATENED
when head is viewed from above, the eyes of the cottonmouth are hard to see
cottonmouths have a creamed colored cheek with dark "mask" extending from eye to back of lower jaw
Neroidia may have creamed colored cheek but will lack "mask"; will possess thin vertical stripes that extend from lower to upper jaw
there are single scales extending from the vent (anus) to tip of tail in cottonmouths; those same scales are divided into multiple ones on Neroidia
the underside of the cottonmouth tail is usually dark; Neroidia is usually lighter in color
pupil of cottonmouth is elliptical; it is round on Neroidia
cottonmouths, being members of the pit viper family, will have heat sensing pit between nostril and eye; Neroidia will lack this pit
scales are keeled, but this is true for some non-venomous snakes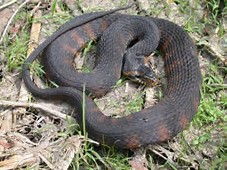 HOW TO TELL FROM OTHER PIT VIPERS
cottonmouths are often confused with copperheads – both in same genus
copperheads will lack characteristic "mask" found on cottonmouths and rattlesnakes
the bands of the copperhead are more uniformed than the cottonmouth and are shaped like an hour glass
copperheads are generally lighter in color
it is difficult to tell young copperheads and cottonmouths apart; both have the light yellow-green tipped tail and light body coloring
SUBSPECIES OF COTTONMOUTHS
there three recognized subspecies of cottonmouths
the Florida Cottonmouth (Florida (A.p.conanti) – is darker, many times black, with two vertical bars on snout; found throughout the state of Florida
the Eastern Cottonmouth (A. p. piscivorous) is lighter in color than the Florida and has no pattern on snout; found in extreme western Florida panhandle and the Appalachian valley of Alabama, Georgia, Tennessee, and North Carolina
the Western Cottonmouth (A.p.leucostoma) – is similar to the eastern cottonmouth but darker in color; found in Mississippi, Louisiana, Texas, and Oklahoma
WHATS IN A NAME
The Cottonmouth and the Water Moccasin are the two names for the same snake; herpetologist prefer to use the name Cottonmouth
The snake was originally described by B.G.E. Lace (1789) using the term "piscivorous"; which means "fish eater"
Gerard Troost (1836) describe the western subspecies using the term "leucostoma"; which means "white mouth"
Howard Kay Gloyd (1969) described the Florida subspecies using the term "conanti"; which was honoring the herpetologist Roger Conant of the Philadelphia Zoo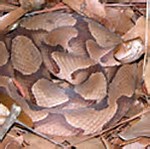 BEHAVIOR
cottonmouths are found throughout the southeast United States but avoid mountainous areas
they are usually found with 30 feet of a water source, though some have been found as far as 100 feet away
they prefer slow, quiet, backwater areas over faster flowing waterways
they are most common in pine flatwoods but can be found in a variety of habitats and do well near humans
they have been found in brackish water areas but freshwater is usually nearby
they are becoming more common on barrier islands, and in some cases in high numbers, but do need sources of freshwater; they cannot extract from seawater
cottonmouths hunt primarily at night; though daylight hunting happens
on cool mornings they may climb lower branches of trees to bask; usually close to water
they will remain still in one location for long periods of time waiting for prey to come within range; but they are known to stalk prey as well
when prey are found they will strike using their hollow fangs to inject a hemotoxin; this venom is known to contain components that cause death, by attacking the muscle and circulatory system, and digestive enzymes to begin the process before swallowing
in the cooler parts of their range cottonmouths will hibernate; but tend to be active year round in FL
PREY
cottonmouths are carnivorous and opportunistic; prey include fish, small mammals, reptiles and birds; they will feed on smaller cottonmouths
they are known to scavenge and are attracted to the smell of dead fish
they hunt primarily at night but are known to during daylight hours as well
they hunt fish and CAN bite underwater – despite the legend that they cannot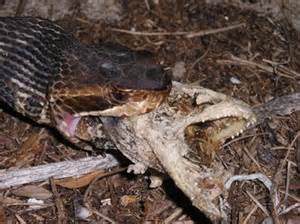 PREDATORS
primary predator include alligators, kingsnakes, and larger cottonmouths
secondary predators include large mammals, birds, hawks, and owls
cottonmouths tend to "freeze" when they first detect a predator – no movement at all
if the predator gets too close they will vibrate their tail in leaf litter to alert the intruder and may gape their mouth showing the white inside of their "cottonmouth"; they may also flatten their bodies to appear bigger and release a musk as a warning
they prefer to flee than bite but they will strike if they have nowhere to flee
REPRODUCTION
mating occurs in spring and sometimes fall; in Florida they may mate year round
males sense pheromones from females to know when it is time and, like other vipers, males may fight for the right to mate
females can store sperm for long periods of time and typically breed every other year
females give live birth in late summer to early fall; they sometimes congregate to give birth
the average number of offspring/litter is 7-12 but can be as high as 22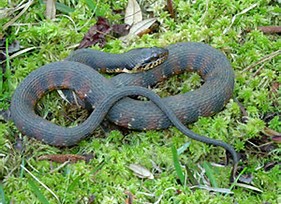 DEALING WITH ENCOUNTERS
KEEPING THEM AT A DISTANCE
when hiking in cottonmouth territory it is recommended to wear high boots and look down while walking; if you need to look ahead we recommend you stop walking – look ahead – and then put your eyes back to the ground while walking
stay on trails; snakes do not like short grass; avoid walking in tall grass where they may be hiding
to keep cottonmouths away from your home – reduce food sources, freshwater sources, and shelter areas
cottonmouths like fish ponds and are often found in the filter system; they may be attracted to swimming pools
cottonmouths also eat rodents; bird feeders, sacks of corn, wood and brush pikes can attract cottonmouth prey, and thus cottonmouths
if you must have brush piles and bird feeders place them away areas where people frequent – away from front and back doors, sidewalks, etc.
many properties have natural ponds and swimming pools; if encounters are a problem consider placing some small mesh fencing to keep them from reaching the source may be helpful; this fencing should be buried 2-6″ below the surface and the wooden stakes should be on your side of the fence – snakes can climb the rough wood stakes; if you cannot continue the fencing across your entire property – make a 90° turn AWAY from your property to encourage them to return from where they came
IF I ENCOUNTER ONE
despite stories, cottonmouths do not chase people; most will sit very still hoping you do not see them; I have personally accidentally placed my foot within inches of a cottonmouths with no reaction from the snakes; their first reaction is to "freeze"
if they feel you are getting too close they often will begin to vibrate their tail very fast; this means they are getting nervous and are warning you to stay clear; many times they are in leaf litter when they do this and you can hear them – DO NOT APPROACH ANY CLOSER; the probability of a strike is still low, but has increased
another warning behavior is mouth gaping and showing of white mouth- "cottonmouth"; though strike probability is still low, studies show that gaping cottonmouths tend to strike more often than tail vibrating ones – DO NOT APPROACH; move back and allow the snake to pass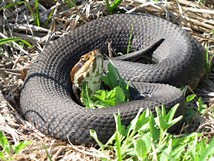 BUT WHAT IF I ALLOW IT TO PASS AND IT IS HEADING FURTHER ON TO MY PROPERTY?
great news right?
statistics show that about 95% of people bitten by snakes are trying to catch it or kill it – so trying to remove it yourself significantly increases your chance of getting bit
many have had success with sweeping non-venomous snakes into a trash can with a broom and releasing somewhere… But these are non-venomous snakes, we recommend professionals for venomous snake removal
you may have no other optional than to kill the snake; if this is the case be careful… Again, many are bitten trying to kill snakes; also know that snakes are known to strike after they are a dead
WHAT IF I AM BITTEN?
first know that death from cottonmouths is very rare; annually in the U.S. about 7,000 – 8,000 people are bitten by venomous snakes (about 1 in 40,000 people) and about 5-6 die (about 1 in 50 million)
also know that many times vipers give what is called a "dry bite" – no venom injected; but you do not know this so treat as if venom was injected; MANY WHO DIE FROM VENOMOUS SNAKE BITES DID NOT SEEK MEDICAL ATTENTION
first rule is DO NOT GET BIT TWICE; after being bit many people will then try to kill the snake and are bitten again; many feel that they need the snake at the hospital for identification – they do not
second rule is to remain calm; easier said than done, but an elevated heart rate will move the toxin within the blood faster
with toxic viper bites there will be pain and swelling; remove watches, jewelry, or any tight fitting clothing from bite area
you do not need to add ice or heat
we do not recommend tourniquets, lancing the bite and sucking out venom; many times the venom has spread from the bite area and health officials have found that many times there are more problems with the "first aid" than with the bite itself
try not to move the limb where bite occurred- easier said than done; if you can elevate your heart above the bite this is good
do not drink alcohol; you may think you need a drink right now but you do not; alcohol or caffeine can accelerate heart and spread venom faster
call 911 and alert the closest hospital that you have a snake bite victim coming in; answer any questions they may have to the best of your ability
again, do your best to relax and get to a hospital; fatalities are rare due to the excellent medical care in this country
All of this said, there is a lot of concern surrounding cottonmouths in Florida. As we expand our neighborhoods into more of their habitat, we will encounter more of them. In some cases, the location for their resources may be our neighborhoods. We will need to learn how to identify them and understand their behavior to avoid negative encounters. The statistics show that they are not as big a threat as they are perceived to be, but folks are still concerned for their family and pets – and understandably so. Hopefully information in this fact sheet will be of help to you.
REFERENCES
Ashton, R.E., P.S. Ashton. 1981. Handbook of Reptiles and Amphibians of Florida; Part I Snakes. Windward Publishing. Miami FL. pp. 175.
Gibbons, W., M. Dorcas. 2005. Snakes of the Southeast. University of Georgia Press. Athens, GA. Pp. 253.
Gibbons, W. 2017. Snakes of the Eastern U.S. University of Georgia. Athens GA. pp. 416.
http://www.bioone.org/doi/abs/10.2994/1808-9798(2008)3%5B175:TEOICS%5D2.0.CO%3B2
http://www.bioone.org/doi/abs/10.1643/CH-04-243R1?journalCode=cope
https://academic.oup.com/bioscience/article/58/10/947/245888/Pitviper-Scavenging-at-the-Intertidal-Zone-An
http://escholarship.org/uc/item/9j69w675
http://ufdc.ufl.edu/files/UFE0046057/00001/WIXSON_J.pdf
http://www.herpconbio.org/Volume_10/Issue_2/Hanson_McElroy_2015.pdf
http://onlinelibrary.wiley.com/doi/10.1111/j.1365-2699.2008.02075.x/full
http://www.bioone.org/doi/abs/10.1643/0045-8511(2002)002%5B0195:DBOCAP%5D2.0.CO%3B2
https://academic.oup.com/beheco/article/15/2/365/223992/Size-based-variation-in-antipredator-behavior
http://www.jstor.org/stable/3890390?seq=1#page_scan_tab_contents
https://www.floridamuseum.ufl.edu/herpetology/fl-snakes/list/agkistrodon-piscivorus-piscivorus/
http://ufwildlife.ifas.ufl.edu/pdfs/cottonmouth.pdf
Johnson, S.A. Frequently Asked Questions About Venomous Snakes. http://ufwildlife.ifas.ufl.edu/venomous_snake_faqs.shtml.
0