ARTICLE WRITTEN BY DR. CHARLES ADAMS, FLORIDA SEA GRANT
The demand for seafood in the US continues to grow. This growth is a function of a number of factors, including the increased awareness of the healthful attributes of many finfish and shellfish products, the increased availability of several key imported, cultured species (shrimp, tilapia, pangasius), and more convenient packaging for home consumption, to name just a few. In terms of wild-caught seafood, effective management at the state and federal level helps ensure the sustainable harvest of traditionally important species, such as reef fish, scallops, flounders, mackerels, and crab.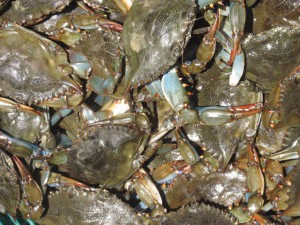 According to the latest data from the National Marine Fisheries Service (NMFS), the US domestic fisheries fleet landed about 7.8 billion pounds of edible seafood products, valued at $5.2 billion. Florida plays an important role in this industry, particularly within the Gulf and South Atlantic region. Approximately $250 million worth of seafood is landed by the commercial harvesters in Florida on an annual basis, with some species being landed in Florida, and virtually nowhere else … including pink shrimp, spiny lobster, grouper and stone crab. But wild harvest is not the only source of finfish and shellfish products.
The commercial aquaculture industry is also growing, as the demand for species grown within controlled systems (such as catfish, oysters, striped bass, crawfish, and salmon) continues to increase. The latest NMFS data indicates that the commercial aquaculture industry in the US harvests approximately $1 billion worth of freshwater and saltwater species annually. The success story for aquacultured food items in Florida is molluscan shellfish, in particular cultured hard clams.
Though our wild seafood stocks are sustainably managed and aquaculture production is increasing, approximately 90% of the seafood consumed in the US is imported. Our domestic harvest and culture of seafood simply cannot keep up with demand. We are eating more and more seafood … with the latest NMFS estimate of annual, per capita seafood consumption being 15.5 lbs (edible meat weight). This is the highest level of per capita consumption since 2010. Even though demand is growing, consumers should be confident that the traditional species from our nation's wild stocks will be there in the future. In addition, the aquaculture industry will help the seafood industry keep pace with growing demand. The seafood industry will continue to be an important source of incomes, jobs, and tax revenue for our coastal communities. And given the increasing number of cultured species and innovative packaging/preparation methods … now is a great time to be a seafood consumer!!
For more information about the US seafood industry, go to https://www.st.nmfs.noaa.gov/Assets/commercial/fus/fus15/documents/FUS2015%20Fact%20Sheet.pdf.
0