I received a call the week before Earth Day to let me know that an alligator was laying on Pensacola Beach, on the Gulf side, near the gate to Ft. Pickens. This is certainly not something you see every day.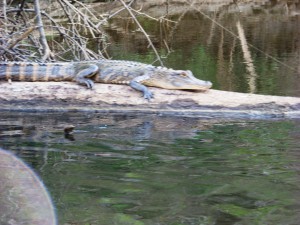 Two questions came up…
One, Is this weird?
Two, Can alligators tolerate salt water?
Let us start with question 1 – is this weird?
Actually, it is not as weird as you may think. Alligators have been found on barrier islands of the northern Gulf of Mexico for decades. I myself have seen them at Big Sabine (though it has been many years since I saw one). As a student at Dauphin Island Sea Lab, we found them on Dauphin Island and on Petit Bois Island in Mississippi; I am sure they are on Horn Island in Mississippi as well. It is listed on the Gulf Islands National Seashore guide as one of the animals you may encounter in the park. They have been reported in the dune lakes of Walton County, and I have seen them at St. Andrew's State Park in Panama City. So yea, they are found in our coastal areas – even the barrier islands. However, they do prefer the freshwater bodies of water on these islands. Which brings up the second question…
Question 2 – can they tolerate salt water?
The quick answer is yes, for a period. There are several reptiles in Florida that can tolerate periods of seawater. Those who spend long periods in brackish to marine waters have lachrymal glands to remove and excrete salt from their blood stream. This keeps the cells of their body in a more "fresh" environment and thus, can tolerate salt water for longer periods. Marine turtles, the most salt tolerant of all reptiles, excrete this salt through these glands located near their eyes. This gives them the appearance of "tears" or "crying" when they are on land. They are actually secreting salt from their body.
Alligators do not have well developed lachrymal glands. However, their tough skin is impermeable to absorbing seawater. They have thinner areas of skin where saltwater can enter and of course they can swallow seawater. Because of this, they cannot tolerate seawater very long and must eventually return to freshwater.
Alligators, like most Florida reptiles, do have to bask on land to warm their bodies in the morning. This is needed for proper digestion as well as other functions. It is also another way that alligators can avoid salty water for periods of time. I understand the alligator still had the faint yellow cross bands on its tail, indicating a younger animal, who may have wondered into the wrong location.
As far as being a danger to humans, you have to "read" the animal. Wild alligators have a natural fear of humans and would prefer to avoid us. According to the FWC, there have been 388 alligator attacks on Floridians since 1948, about 6 per year. 263 of those were considered "major" attacks, about 3 per year. 24 were fatal, about 0.4 per year (1 every 3 years). Wild alligators can be a problem if
The animal is very large – it will consider larger prey like humans
Attacking a pet (even on a leash) and indirectly attacking the pet owner
Swimming in bodies of water with large alligators, especially at night (when they most often feed)
The person was near a nest or young – alligators are very defensive of their young and nest
Any alligator can become a problem when fed. They lose their natural fear of humans and see us as a source of easy food – though they more often go after our pets, which are easier; they are more willing to approach us looking for an opportunity. Thus, is against Florida law to feed alligators.
I am not sure whether the alligator seen that week was acting aggressively or not but certainly could have been a problem. A "nuisance" alligator is defined by FWC as one being larger than four feet and acting aggressively towards humans or pets. If this is the case, they have a team of trappers who will come to collect the animal. It is not recommended that individuals try to capture these animals. As with snakes, many people bitten by alligators were trying to either catch them or kill them. It is best to leave this to the professionals.
Though it is a bit nerve racking to see an alligator on the beach, they are part of Florida's environment. Like sharks swimming along our shores, alligators should not be approached but rather contact a local authority to alert them of the possible danger.
0