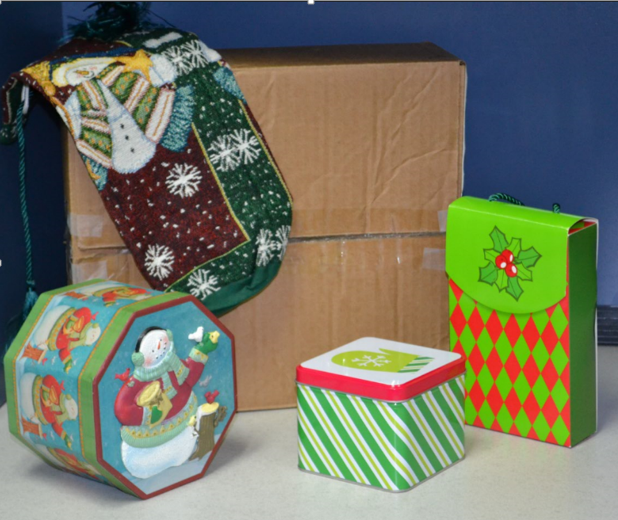 During the holiday season nothing carries good cheer and holiday spirit across the miles like receiving a package full of homemade treats.
If you go to the effort of preparing food gifts, you want to be sure the contents arrive in the condition they were sent in. The first step is to pack it right.
Select a strong sturdy cardboard, plastic, or metal container. Round oatmeal boxes or coffee cans with re-closable lids work well.
On the bottom of the container place a generous layer of filler, such as crumped tissue paper, waxed paper, brown paper bags or plastic bubble wrap.
Next, wrap baked goods individually or in pairs placed back to back. Begin with the sturdiest first. Moist, firm baked goods ship better than the brittle kind. Brownies, fudge and moist cookies pack well. Top with another layer of filler and repeat ending with a thick layer of filler.
Fill the container full so the contents can't shift when it is shaken.
Be sure to pack several inches of cushioning material in the bottom of the shipping carton and enough material around, over and between items so that the contents cannot move easily. Brown paper bags and newspaper provide adequate cushioning for most packages. Save Styrofoam peanuts or foam packing pieces in packages for use when cushioning your packages.
Place a card with the address of the sender and the receiver inside the carton, just in case.
Wrap the carton in heavy brown paper, if desired, and seal it securely with transparent packing tape. Clearly label the carton; put the transparent tape over the address to keep it from getting wet and smeared. Mark it "perishable" to encourage careful handling. One of the best ideas yet is to give a gift within a gift that serves as its own alternative wrapping. Great tasting recipes become even more special when attractively packaged for giving.
Embellish small metal coffee tins for packaging tiny truffles or other candies. Replace plastic tops to seal.
Consider using an empty potato chip canister for packaging. Cover it with Christmas wrapping paper, fill it with cookies, candies or salty snacks, and replace its plastic top to seal.
Fill a Christmas stocking with a favorite snack mix or nut mix. Package the mix in a re-sealable plastic bag and tuck it and holiday napkins into the stocking.
Top off decorative jars of homemade desert sauces or jelly with raffia or decorative ribbon. Attach a homemade gift tag and a spoon.
Bake and transport homemade bread in light weight recyclable aluminum pans available at most supermarkets. Wrap pans of bread with a large linen napkin or place bread in gift bags and tie with holiday ribbon.
When giving a variety of foods together, include items to be eaten with your goodies or utensils that might be needed for further preparation.
Remember it's the thought behind the holiday package that counts; the link with loved ones and the knowledge that someone is thinking of you during the holiday season. A package filled with homemade treats says "love" with every bite.
0