Homeowners and horticulture professionals spend time to develop an attractive ornamental bed only to have weeds take over months or a few years later. One common method in the attempt to prevent weeds is to apply a landscape fabric around plants in beds and place a layer of mulch on top to dress it up. The thought is that this barrier on top of the soil will prevent a large number of weeds from emerging. The fabric physically prevents the growth of weeds form the soil below and blocks sunlight from reaching weed seeds. Available fabrics are labeled as porous to allow air and water to move through them and reach ornamental plant roots.
On paper, landscape fabric sounds like a good idea and it may work for a little while. Over time, soil particles and decomposing mulch fill up the porous spaces in the fabric which prevent air and water from reaching plant roots. Even with irrigation or routine rainfall, plant roots often do not receive the needed water and air for healthy growth. Plants may respond by trying to send roots through fabric seams which breaks down the intended weed barrier. Other plants slowly decline or may die quickly due to water stress or lack of sufficient air movement into the soil.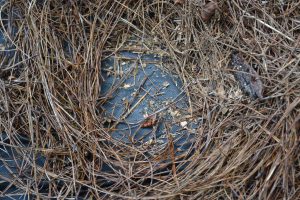 Weed seeds also find their way into the mulch that is on top of the fabric from nearby lawns and landscapes. The next thing you know, you have an entire weed crop growing in the mulch on top of your landscape fabric. Perennial weeds such as torpedograss and purple nutsedge eventually grow through fabrics.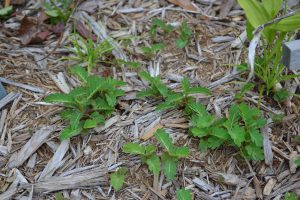 The best place to consider fabric if you want to install it in the landscape is under mulched paths or other areas without ornamental plantings where a synthetic groundcover is needed. In order to have a healthy root environment for your ornamental bed plants, it is best to keep landscape fabric out of these areas.
1