Gardeners love to share plants. My yard, like many of my gardener friends, is filled with plant gifts that were started from a cutting or division of a favorite plant. These two methods of growing new plants is fairly easy once you learn the techniques and allows gardeners a way to save a little money and grow more plants for their yard, special community projects, or even some fundraising events.
In our enthusiasm over a favorite plant, gardeners must be aware that we are not allowed to propagate certain plants from cuttings or division. Many of our ornamental plants, especially newer introductions are patented plants. These are seen as 'premium' plants that will hopefully be in demand by the public. The plant developer or nursery invests in the patent in hopes that the plant will become the next must have ornamental. Only businesses or individuals with authorization from the patent holder are able to asexual propagate these plants since the Plant Patent Act protects these new varieties for 20 years from the date of introduction.
So if you bought a beautiful Limelight hydrangea (Hydrangea paniculata 'Limelight' Plant patent #12,874) for your yard, you may not take a cutting to start a new plant, even if it is only for yourself.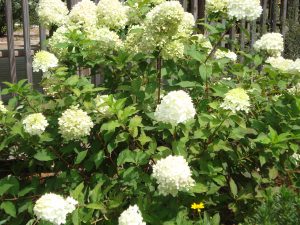 When you visit the nursery, look on the plant label which will often indicate if the plant is patented. You may also look online to see if plant has a patent.
0