All Photos: Molly O'Connor
In this monthly series of highlighting outdoor adventures in the Florida Panhandle, we are visiting locations along the Intracoastal Waterway; from the Alabama State line to the Aucilla River. In January we wrote about Perdido Key, last month we visited Pensacola Beach, this month we move east along Santa Rosa Island to the beach community of Navarre.
Navarre Beach is a relatively quiet community on Santa Rosa Island between Pensacola and Ft. Walton Beach. There are some good places to eat, a new RV campground, and plenty of water/outdoor activities. Navarre Beach became famous in the 1970's as the location for the film Jaws II. I personally witnessed much of the shooting of the film and it was amazing to see how it all actually all works. The hotel that was used in the film is no longer there but the stories are!
On the Island
There are some great kayak and paddle locations on Navarre Beach. Paddling over the grassbeds and to the east of the Navarre Marine Park you can see a lot of coastal wildlife and great sunsets. You can of course paddle the Gulf as well and maybe take a shot at kayak fishing. You will find local kayak rentals and guides by visiting Naturally EscaRosa website.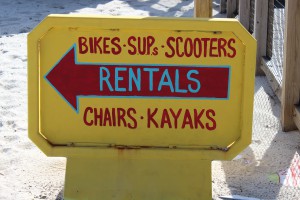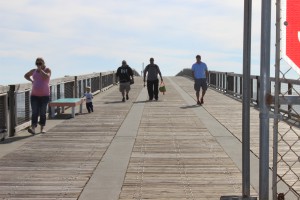 Speaking of fishing, there is the Navarre Beach Fishing Pier which extends 1500 feet out over the Gulf. The pier provides of variety of price options for fishermen of all ages and for $1 you can just walk and enjoy the view. Sharks and sea turtles are often seen from here – and don't forget the sunsets.
There are two educational interpretive centers on Navarre Beach. The Navarre Beach Marine Science Station is part of the Santa Rosa County School District. They provide programs for elementary, secondary, and dual-enrolled high school-college students. The Station also provides numerous youth camps during the school year and during the summer, as well as providing activities at local community events. To see if they have something going for your young one while you are here visit their website.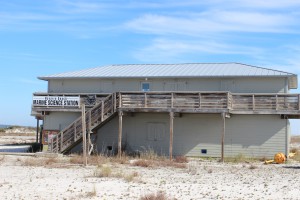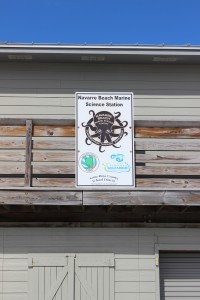 The Navarre Beach Sea Turtle Conservation Center is an educational center that focuses on imperiled marine wildlife but the sea turtle is the star of the show. The center will eventually house an injured sea turtle that can no longer be released but until one arrives, there is plenty to see and learn. Learn more about the center at their website.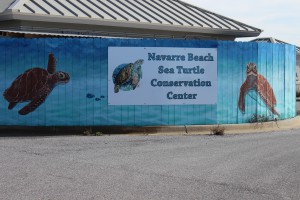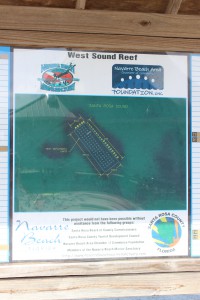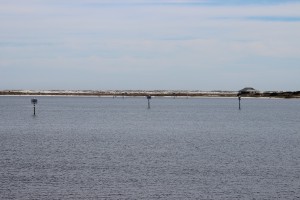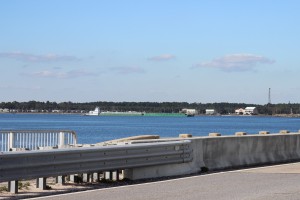 Off the island
Actually, you have to leave Santa Rosa at this point. The island between Navarre Beach and Ft. Walton Beach is the property of the United States Air Force.
As you leave Navarre Beach to travel the ICW from the north side, you see the Panhandle Butterfly House on your left at the Highway 98 traffic light. This is a great stop. Viewing live butterflies feeding on native plants in all stages of their lives is a cool sight. There are plenty of volunteers to educate you about native butterflies and there is a pond out back with a lot of turtles and birds to view. It's a neat and relaxing place.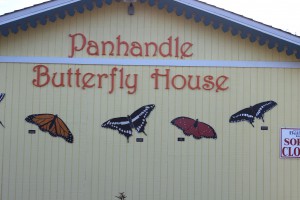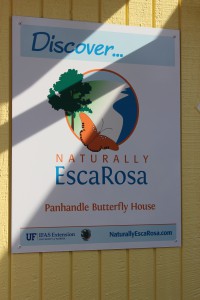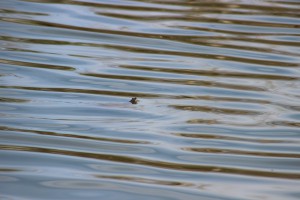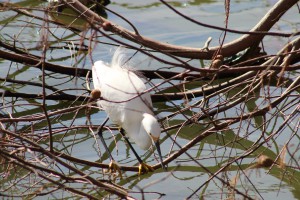 Nature Notes: Sea Turtles
Who doesn't love sea turtles! These silent, charismatic creatures have been navigating Gulf waters, and nesting on our beaches for centuries. Certainly the largest species of turtle humans will encounter, weighing in between 200-300 pounds – with some reaching 1000 pounds, they are an awesome thing to see. There are five species found in the northern Gulf of Mexico and there are records of four them nesting here. Those species are the Loggerhead, Green, Kemp's Ridley, Hawksbill, and the giant of them all the Leatherback.
Sea turtles begin their lives within the egg buried on a beach. The sex of the embryo is determined by the temperature of the sand they are incubating in – cold ones become males and 29°C appears to be the cutoff. After 60-70 days incubating the young hatchlings emerge at night and orient towards shortwave light (moon or stars off the water). However, in recent years much of the light we provide in our homes as directed them in the wrong direction (disorientation). There are "turtle friendly lights" that use longwave colors and significantly reduce the disorientation problem. All coastal counties along the panhandle require these lights for island structures. Many of the hatchlings are lost as they wonder to the Gulf. Ghost crabs, fox, coyotes, and now feral cats capture and consume many.
Those lucky enough to reach the water now have to deal with fish and bird predators. These young head offshore seeking the Sargassum mats where they will spend their growing years feeding and hiding.
As immature adults most species will return to the coastal areas to feed on seagrasses or invertebrates. As they become sexually mature they, once again, head to sea. Though they travel far and wide they are known to return to their place of birth for breeding and egg laying. Breeding takes place just offshore and females may come ashore more than once to deposit their clutch of 100+ eggs.
In addition to light pollution, marine debris, boat strikes, commercial fishing nets, and even holes and chairs left on the beach overnight have caused their numbers to decline. You should be aware that most coastal counties have a "leave no trace" ordinance asking you to remove your chairs, tents, and other items at the end of the day – and please fill in any holes you may have dug. All species of marine turtles are currently listed and protected by the U.S. Fish and Wildlife Service. In Florida, the USFWS has yield management of these species to the Florida Fish and Wildlife Conservation Commission. They are truly a magnificent creature and we hope all get to see one while exploring our beaches.
Now it is time to move to Okaloosa County – the April issue will look at Ft. Walton and Destin. Let's head there and see what cool outdoor adventures await us.
You can find information on ecotourism providers in Escambia and Santa Rosa counties by visiting Naturally EsacRosa.
0