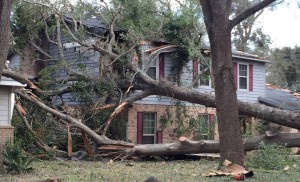 When we think of bad weather in Florida, hurricanes are typically the first thing that comes to mind. In reality, Florida is 4th in the nation in tornado frequency—and when adjusted for frequency per square mile, we are actually number 1. Residents of Escambia County are believers now, as the community reels from enduring two tornadoes in the span of a week. Both rated as EF3 storms, the winds in the twisters (136-165 mph) were nearly equivalent to a Category 4 or 5 hurricane. The western Panhandle and much of south Alabama were under tornado watches as the most recent band of thunderstorms moved through.
Based on a thorough study of surviving trees after hurricanes in Florida, there are several species of trees best suited to windstorms. For north Florida, some of the top species are: Florida scrub hickory, several native holly species, Southern magnolia, sand live oak, myrtle oak, and bald and pond cypress. Data from the full study and an in-depth overview is available from the University of Florida. To prepare for a heavy thunderstorm or a milder hurricane, it is wise to replace or plant trees with the most wind-resistant species. Because of the damage from falling trees in storms, many homeowners are nervous about planting trees. However, there are so many benefits to healthy trees in a landscape that they vastly outweigh the small risk of them falling.
Keep in mind that tornadoes are the most violent natural disasters and may cause complete devastation of homes, neighborhoods, and forests in a matter of seconds. After the Escambia County tornadoes, we witnessed large uprooted trees, downed power lines, flipped vehicles and blown-off roofs. Several homes and apartments were completely flattened or blown off their foundations. Luckily, the odds are in one's favor of not getting hit directly by a tornado—because there's often little anyone can do for a landscape in that situation. It's best to hunker down in a windowless inner room or hallway, which saved the lives of hundreds during the last round of bad weather.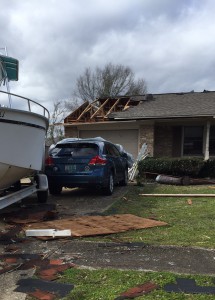 However, there's good news that work that can be done to help protect a home during storms. Hardening homes through "windstorm mitigation" techniques can prevent updraft from strong winds. A house is only as strong as its weakest area, and those are typically the connections between the walls, roof, and foundation. A wind-rated garage door and/or brace are crucial, as strong winds can enter a garage and blow out the roof above it.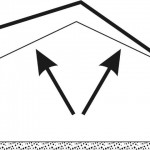 In Escambia and Santa Rosa County, the local nonprofit "Rebuild Northwest Florida" operates a cost-sharing program to help residents harden homes. After the tornado in Century (near the Alabama border in north Escambia County), engineers from Rebuild examined a home that suffered a direct hit from a tornado. The home had been retrofit with crucial wind mitigation techniques and sustained no structural damage. Buildings, sheds, and homes all around it were destroyed. Examples of several wind mitigation techniques, including storm shutters, wind-rated windows, garage door braces and a tornado shelter are available for public viewing at the Escambia County Extension office in our windstorm mitigation building.
As the spring storm season heats up and rolls into hurricane season, keep in mind these suggestions for both the landscape and home. As always, contact your local Extension office if you have any questions.
0