As September rolls into October and we finally experience cooler temperatures, I always look forward to seeing one of my favorite native grasses in full bloom. Muhlenbergia capillaris, or Muhly grass, is an extremely versatile plant in the home landscape. It is both flood and drought tolerant and easy to maintain. A true local, it is typically found growing in beach dune areas, sandhills, pine flatwoods or coastal uplands. It provides nesting material and shelter for birds and small animals, and is known to attract beneficial ladybugs.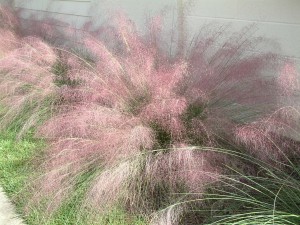 Muhly grass grows in a clumping form, usually 2-3 feet in height and width, and looks great in clusters as a border along the edge of a building or lawn. It can also be used as an eye-catching centerpiece in a landscape. The plant's most notable feature, however, appears in late September and early October. This is when hundreds of filamentous blossoms form a dramatic display of deep pinkish purple. When the wind blows the colorful blooms, it creates an appearance of a pink cloud hovering over the grass.
Muhly grass is semi-evergreen, turning more copper in color as it gets colder. The only maintenance needed is voluntary; in late winter it can be trimmed down to 6-8″ to remove older, dead blades before the growing season. This plant was chosen as the 2012 Plant of the Year by the Garden Club of America, and is a great selection for our area.
For more information on the plant, please visit UF IFAS "Gardening Solutions" or speak to your local UF IFAS Extension horticulture agent.
0