I was sitting on my back porch late in the afternoon this past week enjoying the breeze and the sunset when the familiar sound of the bugs some call "locust" began their buzzing songs. Not all would agree with me but I really enjoy the sound of these animals. They remind me of camping and warm summer evenings, they remind me of living in Florida. They have been with me all of my life and I quite enjoy hearing them – would actually miss them if there were not here.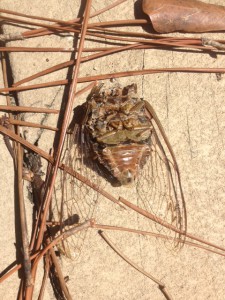 These bugs are not locust but a type of insect called cicadas, which is different from the "katydid" which is a different insect all together. Many who have grown up in Northwest Florida are quite familiar with their songs but not with the insect itself. Cicadas begin their lives in the trees – this is where the females lay their eggs. Most of them will find a split or tear in the twig tissue but others will actually make such a tear and here deposit their eggs. When they hatch they fall to the ground as an ant-sized larva. These larva burrow under the ground and move via burrows feeding on the sap and tissue of plant roots. Some species spend 2 years here, others as many as 17 years before they emerge. Like all members of Arthropoda these insects have external skeletons and must molt, or shed them, as they grow. Cicadas molt three times while living beneath the soil before emerging as a nymph. The nymph will climb a tree where they will molt once more becoming the winged adult some of us have seen. Many have found the empty cast of these molting nymphs clinging to the side of the tree. The males do most of the "singing" using drum-like structures called TIMBALS along their abdomen. These timbals are controlled by muscles and vary from species to species. The songs are species specific and are used to communicate with others but particularly the females, with whom he wishes to breed with before their lives come to an end in a few weeks. Landscapers and contractors have claimed that the sounds of their lawn equipment and power tools will sometimes attract cicadas and there is some evidence that it in fact it does… particularly females.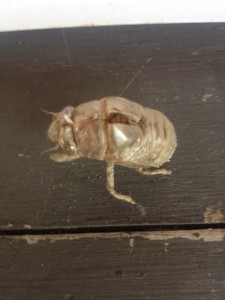 There are many species of cicadas in the United States. One group will lay their eggs, the larva will drop and remain subterranean for 17 years emerging all at once! There are 19 species found in Florida and the mass emergence does not occur here. Our adults emerge every season, singing their songs, and relaxing our souls. I am glad they are here. Enjoy the summer.
0