Native Grass for Moist Soils
Native plants can more readily be found in local nurseries to enhance landscape plantings. Not all natives are suited to every habit so it is still important to match the plant's requirements with a suitable area in the landscape.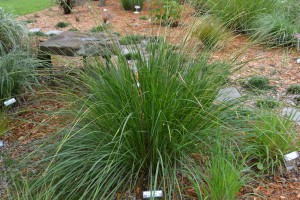 One low maintenance native that is more suited to a specific area is the landscape is the Gamma or Fakahatchee grass (Tripsacum dactyloides and T. floridana). This clumping perennial grass grows best in moist or even boggy soils. It has attractive green foliage and upright flower stems that appear in mid summer. Although the flowers are not very significant, they do have a red color when viewed up close.
The Eastern gamma grass can grow five feet in height so many gardeners prefer the dwarf version that reaches about 2-3 feet in height. Plant in areas of full sun or partial shade as a specimen plant or use in a mass of three or five.
In areas that receive colder temperatures, gamma grass can add fall interest to the garden. Leaves will change to a shade of red with first frost and plants can die back to the ground during freezing winters. New growth returns in the spring. Basic maintenance includes pruning back in the spring.