For many who are seafood lovers there is nothing like a good grouper sandwich; makes me hungry just to write that. Groupers are members of the one of the largest families of fish in the Gulf of Mexico. There are 33 species in the family Serranidae, which include sea bass and perch, and many are sold as "grouper" in the seafood markets. There are 10 species of searranids that are in the genus Epinephelus and are considered the true groupers. One of these, Epinephelus itajara , is a monster; this is the Goliath Grouper.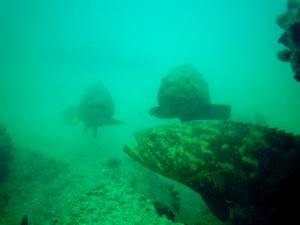 As the name states, these fish can reach 6 feet in length and over 700 lbs. Goliath groupers are generally found on structure such as artificial reefs, near drill platforms, and on natural bottom. They tend to stay near the reefs they inhabit but will travel long distances for breeding. Data suggest that the highest concentrations of these fish are in southwest Florida but they disperse across the Gulf and along the Atlantic coast of south Florida. The large spawning aggregations occur offshore, generally from July through September, and the planktonic larva drift into the mangrove estuaries of southwest Florida. Here the young fish live for 5-6 years feeding on the abundance of food found there and then head back offshore searching for reefs to call their own. Many head to the northern Gulf and our area. Though they are large they feed relatively low on the food chain, consuming primarily crustaceans and slow moving reef fish.
They were a huge trophy fish back in the middle 20th century. Fishermen could not resist the chance to have a photograph with one of these behemoths. Because of this popular activity, and the loss of their mangrove nursery grounds due to development, their numbers diminished across the state and today there is a "no harvest" rule for the fish. However some divers are indicating their numbers are increasing and that the Florida Fish and Wildlife Conservation Commission should to revisit the rule.
In response FWC's research group, Fish and Wildlife Research Institute, in St. Petersburg conducts an annual "Goliath Grouper Count". Modeled after the Christmas Bird Count conducted each year by the Audubon Society, the Goliath Grouper Count occurs during the first week of June. The counts have been occurring in south Florida for a couple of years but for the first time the panhandle will be participating this year. If you are a diver and interested there is a particular protocol that needs to be followed when counting. You can find out more by contacting Rick O'Connor in Pensacola at (850) 475-5230 or Scott Jackson in Panama City at (850) 764-6105 to obtain the protocol and the data sheets. The official count will run between June 1 and June 15.
0