One of the most commonly used shrubs in landscapes is the Indian hawthorn, Rhapheolepsis indica. Although not native to Florida, it can be a very attractive shrub when used properly in landscapes. Plants offer spring flowers in pinks and whites followed by berries that are a food source for birds.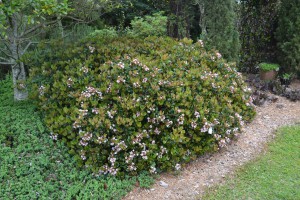 Indian hawthorn plants in landscapes are susceptible to a couple of pests that create unattractive and unhealthy plants. A leaf spot fungus called Entomosporium leaf spot easily spreads from infected plants through irrigation and rainfall leading to leaf discoloration, leaf drop, and dieback of limbs. Scale insects can also be common on leaves causing yellowing and dieback. The fungal problem is difficult to manage on heavily infected plants but the scale can be managed with a low toxicity pesticide choice such as a horticulture oil.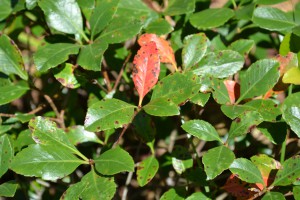 Most often the problems on Indian hawthorn, especially fungal, are the result of poor management. This shrub likes sun, well-drained soil, and no overhead irrigation. Once established, plants should need little supplemental irrigation and water should only be applied to the base of plants. Since plants normally form a rounded mound, there is also little need for pruning if planted in a correct spot and spaced appropriately when planting. Most landscape installations of Indian hawthorn space plants based on the gallon pot size and not the mature size of the plant which is about 3-5 feet in height and spread.
Indian hawthorn can still be a good selection for homeowners. Buy healthy plants without any signs of spots on leaves and don't plant a monoculture of these plants in the landscape. If one plant does have serious pest issue it is easier to either treat or remove one plant versus a mass planting.
0