Variety is the spice of life and more homeowners are incorporating this philosophy into the design of their homes. Windows especially are becoming more of a design feature, so we should change our philosophy on landscaping around them.
Windows allow us to feel connected to the outdoors and allow natural light to pass into the living area. They let us enjoy flowers, wildlife, and even keep an eye on outdoor activities. Because so many homes are using larger frame windows that may be only two feet off the ground, careful planning of landscaping is necessary so views are not blocked by a mass of branches and leaves.
Many common foundation plants that have been planted around homes in the past may not be good choices for homes with low windows. Ligustrum, various holly and loropetalum species, and several types of azaleas will mature to medium‑sized shrubs and block a good portion of windows in a couple of years. Though continuous pruning can keep these plants low, it also can result in pest problems due to frequent pruning wounds and thick growth.
Foundation plants should create a low‑maintenance landscape. Selecting plants that do not grow into the view of windows will save time and money in unnecessary maintenance activities.
Nurseries carry a wide variety of interesting plants. There are dwarf varieties of evergreen shrubs, such as 'Prostrata' Japanese plum yew, 'Purple Pixie' loropetalum, and many new dwarf nandinas that can be planted in front of some windows.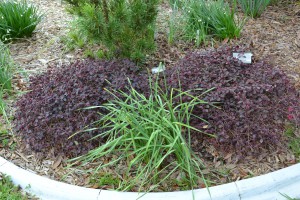 Groundcovers, or even flowering annuals and perennials, could also be good choices under windows. These plants can break the monotony of a typical foundation planting.
Maintaining a mass of annual or perennial flowers below front windows will require a little more work throughout the year. The flower planting will have to be weeded, groomed and even replaced from time to time. A separate irrigation zone for the flowering plants will need to be established so that other foundation shrubs do not receive too much water when the annuals and perennials are watered.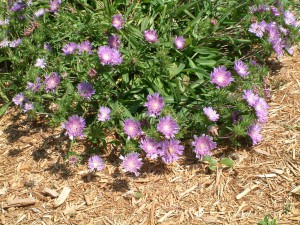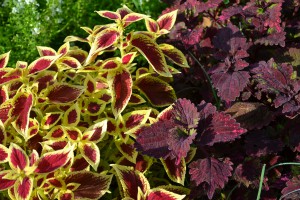 In full sun, consider Stoke's aster, sun coleus, Dicliptera, daylilies, sedum, or Oxeye daisy, In shade, consider caladiums, ferns and 'Hip Hop' Euphorbia.
There are many groundcovers that can be used. Know the growth habit of the particular groundcover since many such as Asiatic jasmine and junipers will spread over large areas. Consider clumping plants like muhly grass or 'Evergreen Giant' liriope.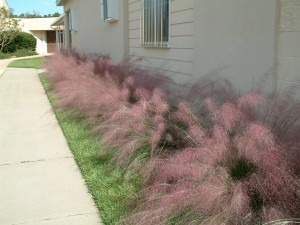 Plants aren't the only possibility for areas around windows. Consider garden ornaments, or create a bird window, with a bird bath, feeder or ground‑feeding area for animals that can be viewed from indoors.
0