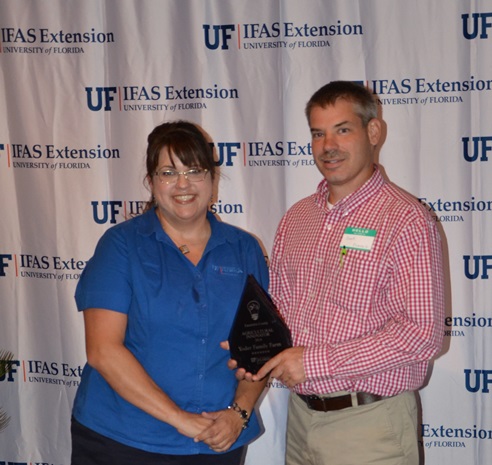 On Thursday August 21, 2014, twelve Innovative Farmers and Ranchers were recognized by University of Florida IFAS Extension and Farm Credit of Northwest Florida at the Jefferson County Opera House, in Monticello. This is the fourth year these two organizations have teamed up to honor a selection of the most innovative farmers from the Florida Panhandle.
The purpose of the Agriculture Innovator Recognition Program is to annually recognize innovative farmers and ranchers from 16 Florida Panhandle counties, from Jefferson west to Escambia County. In 2014, County Agriculture Extension Agents selected 12 Agricultural Innovators to be recognized.
All of the county honorees have distinguished themselves as creative thinkers and leaders in the agricultural community. This year Brent and Janice Yoder were honored as Agriculture Innovators by Libbie Johnson, Escambia County Extension . Read more about the Yoder Family and their farm below. The other Agricultural Innovators nominated this year will be featured in Panhandle Ag e-News over the coming weeks.
Yoder Family Farm

–
Escambia County Agricultural innovators
Submitted by Libbie Johnson, Escambia County Extension
Brent, Janice, and their four children: Blake, Brian, Allison, and Bryce own and operate Yoder Family Farm, a 100-acre farm in northern Escambia County. Brent grew up in a Mennonite community in Mississippi where his family farmed on nearly 1000 acres, milking 50 Guernsey cows and running a large farrowing to finish hog operation. After Brent's father had to sell off the farm because of serious illness, his family moved to Atmore, Alabama. It was in Atmore that he met his future wife, Janice, the daughter of a large row crop producer who raised hogs. Brent credits his childhood of milking cows for his desire to get back into dairying when he started his own family. He worked in metal fabrication, lawn care, and the music industry before returning to school to become a registered nurse, then receiving his Bachelor of Nursing degree, and ultimately becoming a nurse practitioner. Always in a learning mode, he has been accepted to Medical School twice. Initially Hurricane Ivan and then the expected toll on his family led him to choose to raise his family on a local farm. Though he farms, he also works as a nurse practitioner at the Atmore Family Practice two days a week and also is a site wellness nurse two half days each week. Janice is a
registered nurse as well, but has chosen raising their four young children as her vocation.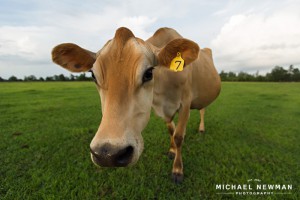 The Yoders run a micro dairy—a small, grass-based, Grade A dairy farm which has an on-site processing facility capable of low temperature vat pasteurization and is a processing/bottling facility. The dairy farm started with one cow, Daisy, in 2009. Originally, Brent and Janice wanted to produce quality milk for their growing family, but as they shared their product with family and friends, the demand grew and so did the herd. Currently, they are milking between 10–15 cows that are mostly Jersey cows. They chose Jersey cows because they produced milk with higher butterfat content than other dairy breeds. Because much of the flavor of the milk is in the cream, their milk is full of flavor. The Yoders are pleased to say "our golden-yellow milk is creamy, delicious, and wholesome, and we're proud to share it." When asked to explain why they chose to do grass fed dairy cows, Brent explained that the cows get plenty of exercise and extra muscle tone walking to and from the pasture. And they eat grass—the stuff cows were meant to eat. Dairy products from pastured animals offer you a healthier balance of Omega-6 to Omega-3 fatty acids, higher levels of CLA (a fatty acid that is a potential cancer fighter) and lower levels of saturated fats. They are richer in antioxidants including vitamin E, beta-carotene, and vitamin C. The Yoders feel that by maintaining the pastures, the sod is strong, healthy, and full of microbes that break down the cow patties into soil nutrients, contributing to cleaner water downstream. Being sustainable and environmentally conscious is very important to the Yoders.
With such a small herd, Brent has to be very concerned with his calving season and freshening his momma cows. If too many go out of production at one time, his business could be severely impacted. He does run a route and drop off milk to homes one day a week before sunrise, but most of his milk is delivered to eight storefronts that offer the Yoder Family Dairy milk. People can also purchase milk on the farm, and he is delighted to say that many people pass up stores that sell his product to drive the 30 plus miles from Pensacola just so they can see the farm and dairy.
Working as a nurse practitioner and running a dairy wasn't enough of a challenge for the Yoders. Brent saw an opportunity to further diversify his agribusiness operation. In 2013, due to the increasing concern over genetically modified organisms (GMOs), Brent developed a partnership with a local grower (Mr. Weber, his father-in-law) to grow non-GMO grains. Mr. Weber grows wheat,
corn, grain sorghum, soybeans, and oats; he then delivers it to the farm, where Brent utilizes it for his mixes. In turn for growing the crops, Brent pays Mr. Weber a premium for a quality product that is not readily available locally. It started as a small custom blending operation to provide non-GMO feeds to local producers. Currently, he blends and markets the following: 3 way scratch, 5 way scratch, bantam layer mix, chick starter, chick grower, pig grower, sow lactation, sow gestation, 12 percent all grain as well
as custom mixes for local farmers and a mix for show animals. Due to soy concerns, he is currently developing a mix and will field test several mixes of soy free poultry mixes by utilizing peanut as the protein. Brent has been satisfied with the customer base he has been able to amass in a short time and believes that the market for his non-GMO mixes will only continue to grow. Though he says the first year of his farming operation wasn't profitable, once he developed his marketing and people began to get a taste for his product, he says a grass fed micro-dairy can definitely be profitable.
Improving Agriculture through Extension
Brent has supported IFAS Extension by serving as a speaker at the annual West Florida Research and Education Center's Agribusiness Conference held in February. He also has served as a stop for the 2012 Escambia County Farm Tour where he gave tours of his operation and his wife provided fresh baked cookies and cold Yoder Family milk to the participants. Many of the
participants remarked on how clean the dairy parlor was, how the cows looked very healthy, and how the pastures looked very well maintained. They left with a positive perception on agriculture, and that is something that cannot be quantified, but is priceless.
Impacting Agriculture in Northwest Florida
Brent regards himself and his family as ambassadors of local agriculture. He is a guest presenter at several speaking engagements annually, always sharing the good word about local agriculture and how each one of us can play a part; either by being a grower or by supporting the growers by purchasing local products. He also serves as an adult volunteer with Lower Alabama 4-H Club, comprised of many youth from the north part of Escambia County, Florida. He's very active in his church, having served as the audio-technical chair while Janice serves as a volunteer in the youth ministry. He is also the Chairman of the Gulf States division of Choice Books, a company dedicated to providing inspiring and wholesome reading material for consumers across the United States. Brent and Janice put faith and family first, but they are also strong proponents of local agriculture.
You might also be interested in the stories of other Agricultural Innovators highlighted in previous weeks:
0