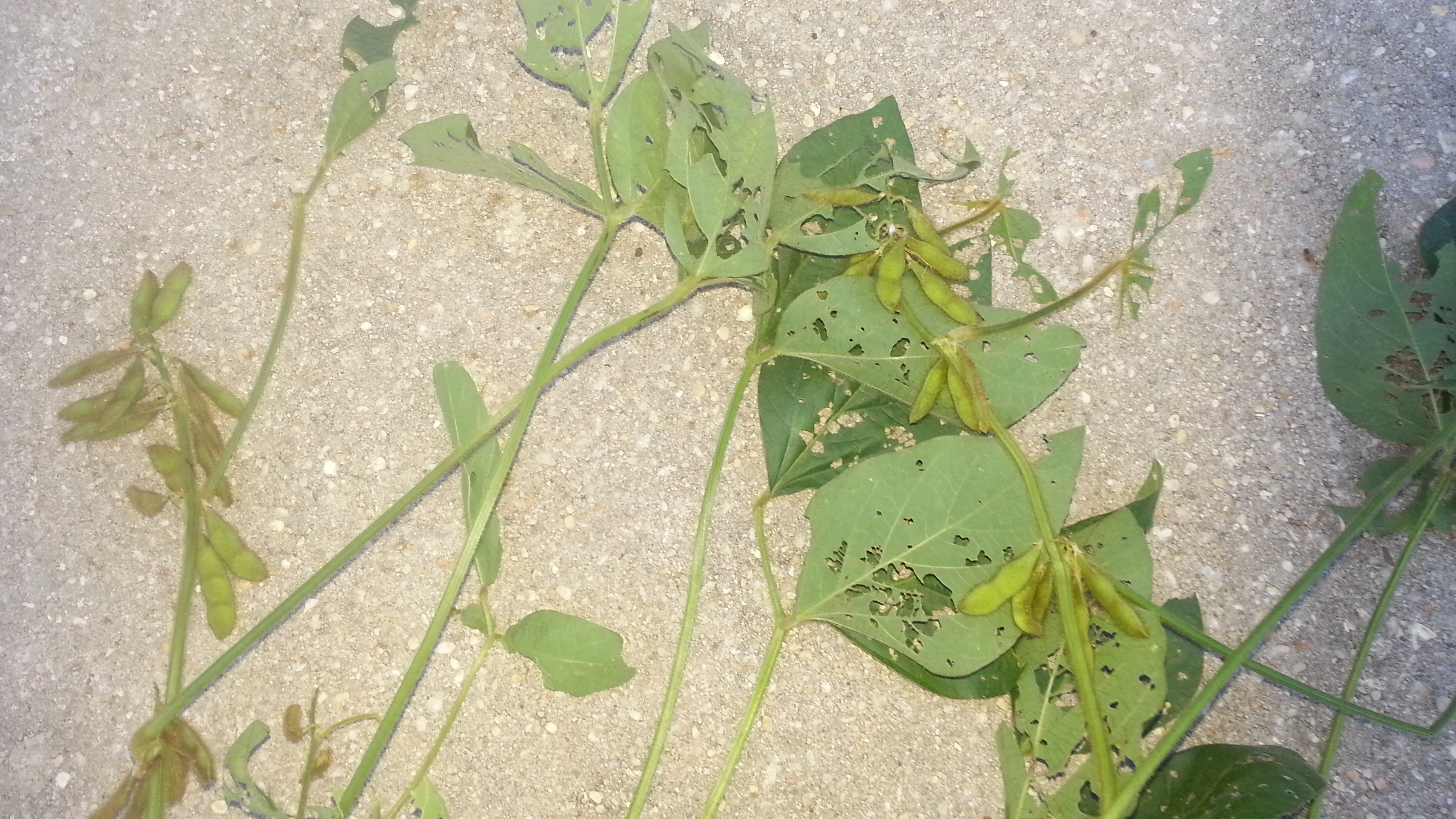 September generally signals the start of peanut and cotton harvests, but in many counties of northwest Florida late planted soybeans still need continued scouting for disease, insect, and weed pests. Unfortunately, one producer here in the western Florida panhandle is dealing with all three.
The producer initially called our office to determine whether grasshopper damage in the field was enough to warrant a control measure. Grasshoppers are generally not a deal breaker in bean production, but after examination of the beans that were planted in wheat stubble, it was determined there were enough grasshoppers of varying life stages doing enough damage to necessitate control.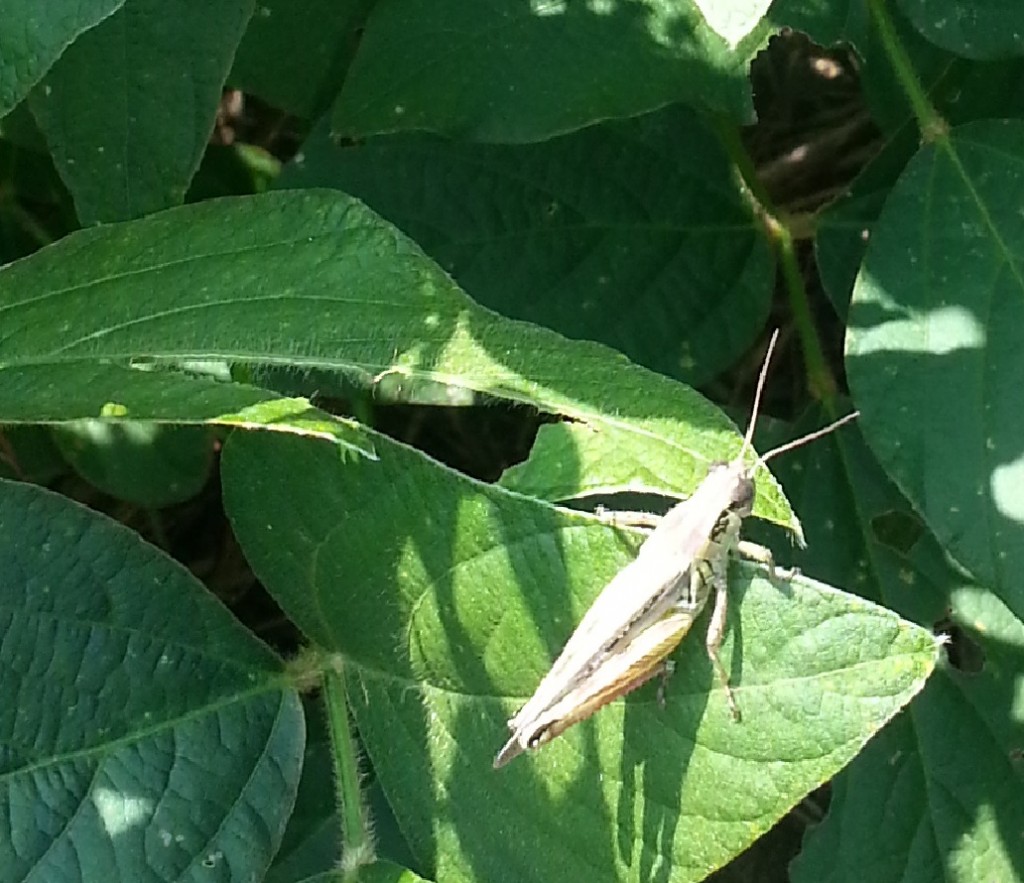 According to the Alabama Cooperative Extension Soybean Production Guide, grasshoppers should be controlled to prevent greater than 20-percent leaf loss from pod set until maturity. Auburn research has shown that grasshoppers have emerged as a pest of soybeans in recent years, primarily in conservation tillage systems. After plants reach the reproductive stage, they will no longer set new leaves. High leaf loss from pests at this point can reduce yields.
The table below listing grasshopper control recommendations is found in the publication referenced above.
Grasshoppers

Insecticide and Formulation

Amount of Formulation on per Acre

Lb Active Ingredient per Acre

Minimum Day Last Application Harvest

Acephate
Orthene 97

0.5 lb

0.485

14

Orthene 90s

0.56

0.5

14

Beta-cyfluthrin (Baythroid)

2.0-2.8 oz

0.017-.02

45

Bifenthrin (Brigade 2EC)

2.1-6.4 oz

0.033-.01

18

Bifenthris (Discipline 2EC)

2.1-6.4 oz

0.033-0.01

18

Carbaryl
Sevin 4F, XLR

1 quart

1

21

Sevin 80S

0.63 lb

1

21

Gamma-cyhalothrin (Prolex 1.25)

1.28-1.54 fl.oz.

0.0125-0.015

30

Lamba-cyhalorthin(Karate Z 2.08 CS)

1.6-1.92 oz

0.025-0.03

30

Methyl Parathion 4EC

1.5 pint

0.75

20

Penncap-M 2 FM

2-3 pint

0.5-0.75

20

Zeta cypermethrin (Mustang Max 0.8EC)

3.2-4 oz

0.02-0.025

21
Soybean loopers, velvetbean caterpillars, and armyworms were also being scouted while surveying the grasshopper damage, but were not found. Instead, however, soybean rust was discovered. This field had not yet been sprayed to protect from rust. Preliminary diagnosis of the soybean rust was confirmed by Dr. Ed Sikora, Auburn plant pathologist.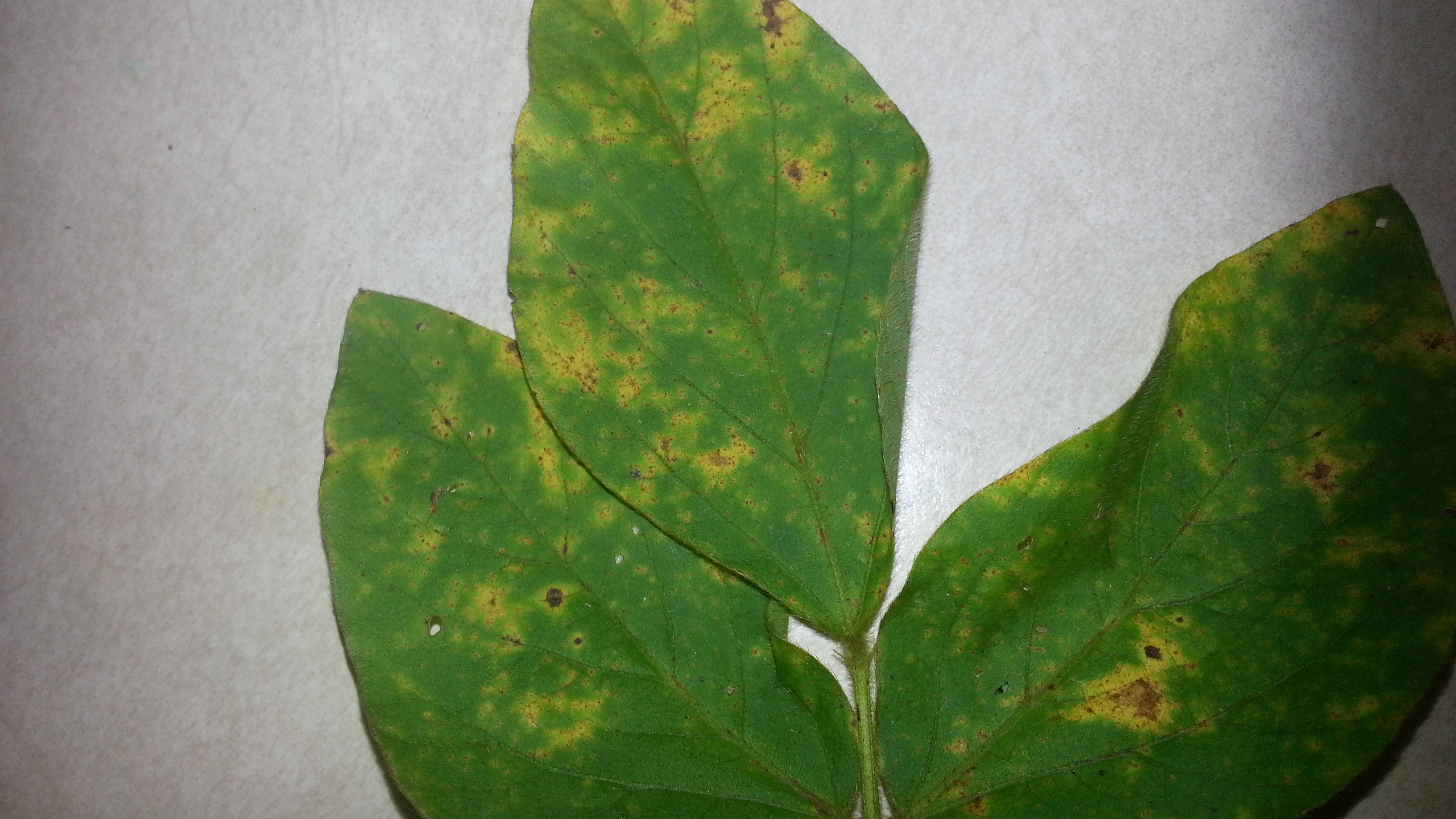 Dr. Sikora preaches "Spray or Pay" when it comes to soybean rust, meaning all soybean producers should be actively managing soybean rust in order to prevent diminished yields. According to the University of Florida EDIS publication, Asian Soybean Rust, control options include applications of strobilurins (pyraclostrobin, azoxystrobin, trifloxystrobin), triazoles (tebuconazole, propiconazole), and tank mixes of strobilurins and triazole compounds. Yield increases of 20 bu/A have been noted with fungicides as compared to non-treated plots. Dr. David Wright, UF/IFAS Agronomy Specialist, suggested that the grower tank mix a triazole product or Topguard with the insecticide used to treat the grasshoppers. For a list of different control options based on crop stage and disease incidence, see Auburn's Fungicide Use Strategies for Asian Soybean Rust.
Finally, the producer was already aware he had herbicide resistant palmer amaranth and has been taking control measures. There are many methods to help reduce and eliminate palmer amaranth in a given field, but herbicide treatments vary between crops and cropping systems. If you have questions concerning managing herbicide resistant palmer on your farm, contact your local county extension agent
15.00
Normal
0
false
false
false
EN-US
X-NONE
X-NONE
/* Style Definitions */
table.MsoNormalTable
{mso-style-name:"Table Normal";
mso-tstyle-rowband-size:0;
mso-tstyle-colband-size:0;
mso-style-noshow:yes;
mso-style-priority:99;
mso-style-parent:"";
mso-padding-alt:0in 5.4pt 0in 5.4pt;
mso-para-margin:0in;
mso-para-margin-bottom:.0001pt;
mso-pagination:widow-orphan;
font-size:11.0pt;
font-family:"Calibri","sans-serif";
mso-ascii-font-family:Calibri;
mso-ascii-theme-font:minor-latin;
mso-hansi-font-family:Calibri;
mso-hansi-theme-font:minor-latin;}
directly. If you see palmer amaranth at this point in your field, roguing the plants and disposing of them properly is a good option, though it is very time consuming and tiring. Additional palmer amaranth control information can be found in the following UF publication: Control of Palmer Amaranth in Agronomic Crops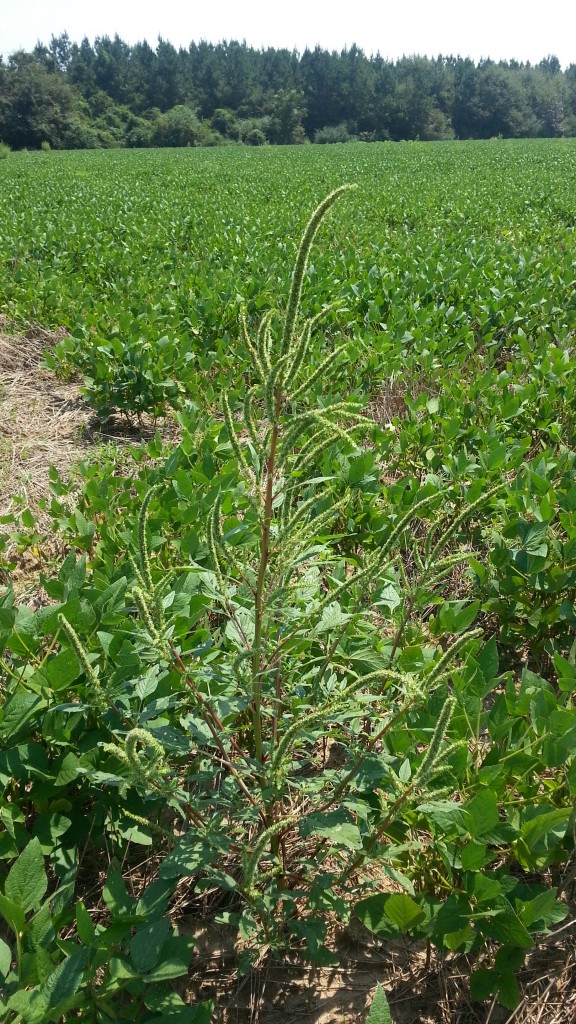 0