Thinking of bulbs for the garden? Summer is not necessarily the time of year that gardeners think about beautiful blooms from bulbs and bulb-like plants, but there are many that bloom in the summer garden.
In general, many types of plants with an underground storage organ are classified as a bulb. These include plants with tubers, rhizomes, or corms. True bulbs including Lycoris and Crinum lily are compressed stems with a growing point surrounded by thick, fleshy scales. Corms such as Crocosmia are solid masses of stem tissue with a terminal bud and side nodes. The rhizome is an underground stem that grows laterally, with representatives of this type being blackberry lily and ginger.
It is likely that your garden is full of bulb-like plants and you were just not aware of their underground beginnings. If you want to consider a few more for the summer garden, here are some good choices.
Blackberry lily is a member of the Iris family that offers good summer bloom in our northern Florida gardens. Plants form sprays of foliage about 2 feet in height with stalks of orange flowers with red spots. Plant in full sun or partial shade and supply with well drained, amended soil.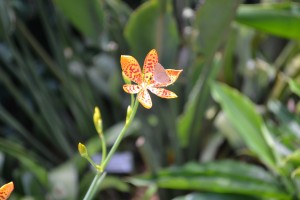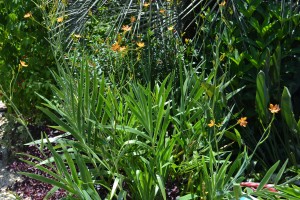 Another bright summertime bloomer is Croscomia. Commonly overlooked early in the year as foliage regrows from the cold, the bright orange flowers that emerge in summer make it a feature in garden beds. Plants grow well in both full sun and partial shade but clumps can expand easily beyond the desirable planting area. Thin out every few seasons to keep the clump manageable.
A tuberous perennial that will have stunning flowers closer to eye level is the Gloriosa or flame lily. Plant stems will wind around a trellis or garden feature, hold on with tendrils, and support large upward-curved petals. Flower colors are red, yellow, orange, or mixes of several colors. Flame lily prefers sunny locations and lots of moisture in the growing season. Winter soils should be drier to prevent tubers from rotting.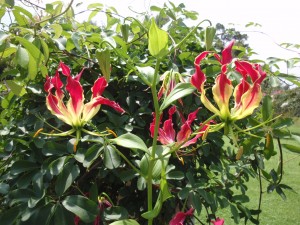 All of these options can enhance your garden and extend your bulb growing season beyond the spring. Happy Gardening!
0