It is human nature to explore. We are a curious species, yearning from birth to stimulate our senses of sight, smell, touch…from an infant's grab at a colorful toy to an astronaut setting foot on the moon, we thrive on new adventures and understanding. A legend of the Age of Exploration, Spanish explorer Ponce de Leon set foot on Florida's coast in 1513, and 500 years later, another water-based expedition is taking place. This time, the explorer sets out not to conquer, but to celebrate the unique ecology and history of Florida. On January 1, University of Florida graduate Justin Riney, founder of a nonprofit advocacy group called Mother Ocean, launched a 365 day standup paddleboard journey around the state. Several standup paddleboarding enthusiasts (myself included) joined him at Big Lagoon State Park in Pensacola to begin the 1,515 mile Florida Circumnavigational Saltwater Paddling Trail, which hugs the coastline south through the Keys and back north to Jacksonville.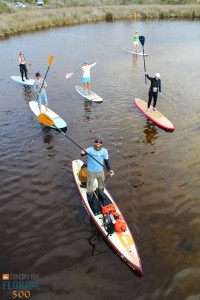 Justin plans to paddle for at least 10 miles a day, carrying all of his gear on his board and camping at beaches in each community. The goal of the trip is not only to help celebrate the 500th anniversary, but he's partnered with the Florida Department of Environmental Protection, the University of Florida, and several watersports companies to promote the expedition and highlight conservation of the springs, rivers, estuaries and beaches around our state. He hopes the journey will inspire people to explore and protect our invaluable water resources, and encourages locals to join him at each location to paddle and share knowledge about their waterways. Along the route, he has scheduled almost three weeks to take daylong tours in areas of particular ecological and historical significance. Today several of us joined him on a trip through Pensacola Bay, where we discussed everything from the history of Fort Pickens, to the improvement of water quality in Bayou Chico, to the Appalachian origins of our sugar-white sands.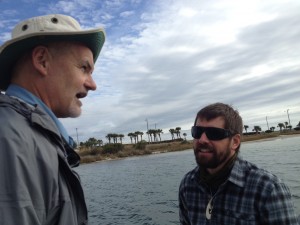 In several communities, he plans to lead coastal cleanups. Justin will be paddling from Pensacola through Gulf Breeze tomorrow and to south Okaloosa and Walton counties through January 11. From there, he will continue along the coast, and on to Bay and Franklin counties between the 15-26 of this month. The detailed schedule below outlines his route from the Panhandle and beyond.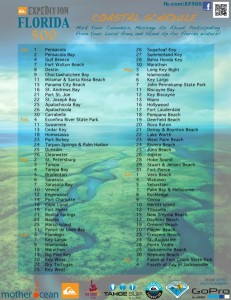 You can follow Justin's experiences at Expedition Florida 500 on Facebook to see updates, photos, and information about where he will be next. If you're a standup paddleboarder, kayaker, or just interested in the project, contact him through the page and take the time to be part of this historic journey. And for those of you who live further inland, after reaching Jacksonville on July 4, he plans to paddle back through the state exploring inland waterways–rivers, springs, and lakes–so there's a good chance Expedition Florida will come to your community this year as well!
0