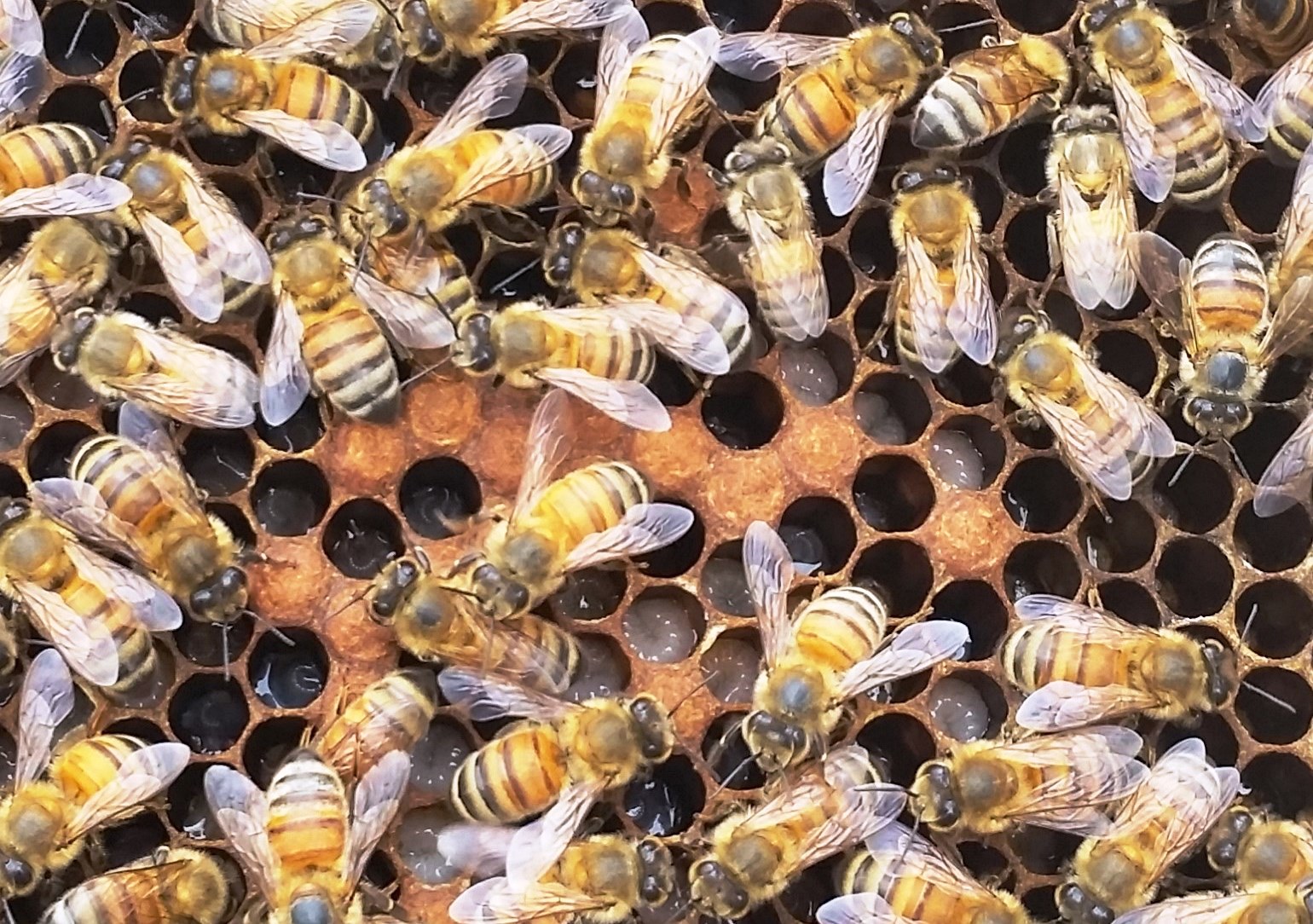 It has been a tough year for beekeepers. Two recent national reports revealed that beekeepers suffered the triple whammy of colony loss, reduced honey production, and lower prices, all of which ultimately reduced income over this past production year.
The Bee Informed Partnership, in collaboration with the Apiary Inspectors of America (AIA), and the United States Department of Agriculture (USDA), conducted their tenth annual national survey of honey bee colony losses. The survey is part of a larger effort to understand why honey bee colonies are declining, and what can be done to manage the situation.
Estimates of the total economic value of honey bee pollination services range between $10 and $15 billion annually, and according to the recently released UF/IFAS publication Minimizing Honey Bee Exposure to Pesticides,
"The western honey bee is conceivably the most important pollinator in American agricultural landscapes. The honey bee is credited with approximately 85% of the pollinating activity necessary to supply about one-quarter to one-third of the nation's food supply. Over 50 major crops in the United States and at least 13 in Florida either depend on honey bees for pollination or produce more abundantly when honey bees are plentiful. Rental of honey bee colonies for pollination purposes is a highly demanded service and a viable component of commercial beekeeping and agriculture. Bee colonies are moved extensively across the country for use in multiple crops every year. There are also over 3,000 registered beekeepers in Florida, managing a total of more than 400,000 honey bee colonies and producing between 10–20 million pounds of honey annually."
According to preliminary results as reported in the Bee Informed collaborative annual nationwide survey and Colony Loss 2015 – 2016: Preliminary Results:
Beekeepers across the United States lost 44 percent of their honey bee colonies during the year April 2015 to April 2016.
Rates of both winter loss and summer loss—and consequently, total annual losses—worsened compared with last year.
Over 5,700 beekeepers completed the survey providing valuable information about honey bee colony numbers and health for the 2015/2016 winter season.
All told, these beekeepers are responsible for about 15 percent of the nation's estimated 2.66 million managed honey bee colonies.
Collectively, responding beekeepers managed 389,083 colonies in October 2015, representing about 15% of the country's estimated 2.66 million managed honey producing colonies
An estimated 28.1% of the colonies managed in the United States were lost over the 2015-2016 winter.
This represents an increase in losses of 5.8 percentage points compared to the previous 2014-2015 winter, but is close to the 10-year average total winter loss of 28.6% (see figure 1).
Just over half of the survey respondents (59%) experienced winter colony loss rates greater than the average self-reported acceptable winter mortality rate of 16.9%.
In 2015, summer losses, at 28.1%, were the same as winter losses.
When all results were combined, beekeepers lost 44.1% of their colonies between April 2015 and March 2016.
This high rate of loss is close to the highest annual loss rate over the 6 years we have collected annual colony loss numbers.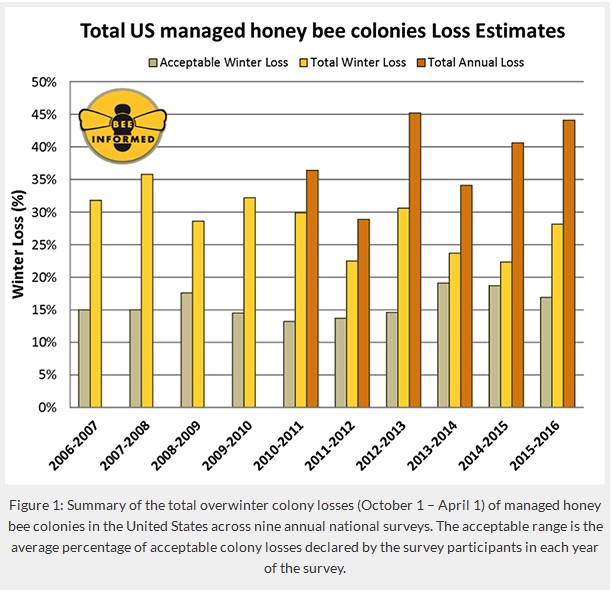 In their report, researchers indicate that colony losses are likely due to a number of factors. Pesticides, poor nutrition, and changing land use resulting in loss of foraging habitats are likely causing stress to honey bee health and survival. One of the greatest factors at this point, however, is the varroa mite (Varroa destructor), a devastating bee parasite that easily spreads between colonies. Based on current research, the varroa mite is more numerous than previous estimates have shown, and they are also implicated in being vectors of several bee viruses.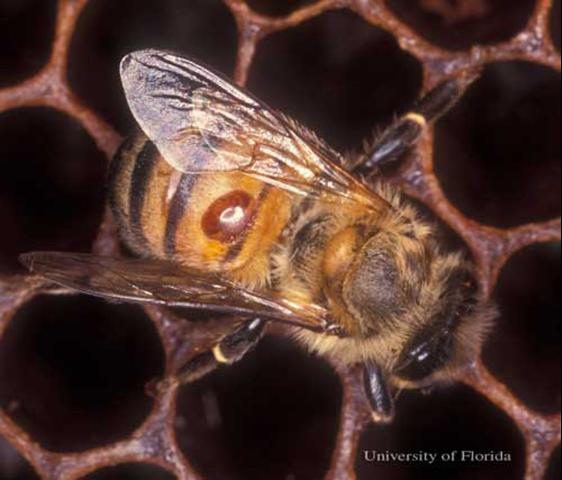 For more information on the Varroa mite and other bee diseases, please see the following press release about a new study of honey bee pests: First Multi-year Study of Honey Bee Parasites and Disease Reveals Troubling Trends and view the video on varroa mites from UF/IFAS Honey Bee Research and Extension Lab.
Coupled with this report of colony loss is the decline in national honey production reported in 2015. The National Agricultural Statistics Service (NASS), Agricultural Statistics Board, United States Department of Agriculture (USDA), has released their annual Honey Production Report which describes a 12 percent decrease for operations with five or more colonies.

The NASS report states that United States honey production in 2015 from producers with five or more colonies totaled 157 million pounds, down 12 percent from 2014. There were 2.66 million colonies from which honey was harvested in 2015, down 3 percent from 2014. Yield of honey harvested per colony averaged 58.9 pounds, down 10 percent from the 65.1 pounds in 2014. United States honey prices also decreased during 2015 to 209.0 cents per pound, down 4 percent from a record high of 217.3 cents per pound in 2014.
Just as with managing any livestock commodity, beekeepers must manage their bee colonies based on ever changing environmental, biological, and economic variables. The good news is that the importance of pollinating insects to our food supply is receiving greater attention on a national scale, resulting in increased recognition and research into the factors causing bee colony declines.
For more information, please see the following resources used for this article:
0