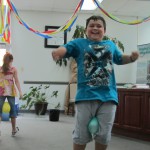 It's that time of year in North Florida when we're not sure what we'll wake up to each morning. We may be in short sleeves, sweatshirts, or hip waders and that can make planning a club meeting tough. During this time of year, between the cold and the rain, it's seldom that our youth are allowed to go outside for PE. And in lower grades, where a gym may not be available, they are often not getting any significant amount of physical activity during the school day. This is neither good for their mental or physical health, so how can we combat the winter-blues in our club meetings? Here are a few suggestions:
Indoor relay and tag games: If space permits, move the furniture out of the way, and let the kids play freeze tag or have a relay race. Relays are often easy to relate to the educational topic of your meeting. Examples include:
Set the table relay: where youth draw a piece of a table setting out of a paper bag, run to a table across the room, and put it in its proper place on the table. (the floor can be used in place of a table if need be.) The first team to correctly set the table wins.
Salsa relay: youth put plastic tomatoes or peppers or onions or garlic between their knees and "run/waddle" around a cone, chair, or tape mark, at the other end of the room back to their team where they pass on their piece of food to the next team mate. The first team to have each player complete the task wins.
Traditional balloon and ring races are always good too.
Exercise bingo: Contact your local extension office for a copy of exercise bingo. In this high intensity game, each youth or team of youth, is given a bingo card and a stack of exercise cards which face down on the floor. A teammate flips an exercise card, and each team member completes the task on the card (arm circles, pushups, jumping jacks, etc.) If their bingo card includes this exercise, the team captain marks that spot off of their card. Teammates take turn flipping exercise cards until they have Bingo. The first team to get Bingo wins.
Simon Says, Duck-Duck-Goose, London Bridge: These games require only a little space, and are still fun for younger youth, especially Cloverbuds (4-7 yrs). Simon says can often relate to your educational program as well. Ex – "Simon says comb your steer." "Simon says, stir the batter." "Simon says bait your hook."
Legos, board games, etc.: It's not very active, we know, but sometimes space just doesn't allow for much physical activity, but it's still important for youth to have time to interact with each other and relax. Be sure not to pick board games that may take hours to complete. Things like Charades, Guestures, Win, Lose or Draw, etc. are great options.
Now it's your turn. Get creative, and in the comments section below, share with us the ideas you have for indoor recreation!
0