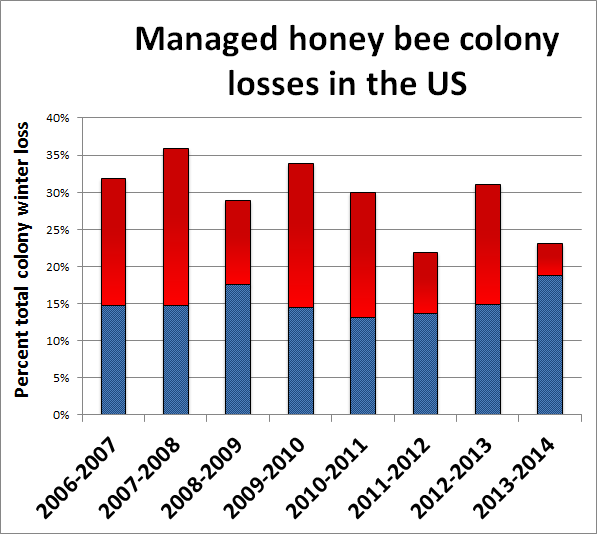 The Bee Informed Partnership, in collaboration with the Apiary Inspectors of America (AIA) and the United States Department of Agriculture (USDA), conducted their eighth annual national survey of honey bee colony losses. Their preliminary summary report from the winter of 2013/14 released recently showed that beekeepers reported:
23.2% of managed honey bee colonies in the U.S. died.
Nearly two-thirds of the respondents (65.4%) experienced winter colony loss rates greater than the average self-reported acceptable winter mortality rate of 18.9%.
The 2013/14 winter colony loss rate of 23.2% is 7.3 points (or 23.9%) lower than the previous years' (2012/13) estimate of 30.5% loss. (Figure 1, above) and is notably lower than the 8-year average total loss of 29.6% .
For the 2013/2014 winter season, 7,183 beekeepers in the United States (U.S.) responded. Collectively, they managed 564,522 colonies in October 2013, 21.7% of the country's 2.6 million colonies.
Dr. Jamie Ellis, UF/IFAS Entomologist and leader of the Honey Bee Research and Extension Laboratory, has done extensive research on the topic of colony collapse disorder. Dr. Ellis reports in his publication on Colony Collapse Disorder (CCD) in Honey Bees that "Beekeepers around the United States have reported higher-than-usual colony losses since the fall of 2006. These elevated losses have been called "Colony Collapse Disorder" (or CCD). Some beekeepers in states reporting CCD have lost 50-90% of their colonies, often within a matter of weeks. Despite these high losses, the average number of colony losses has been ~30% since CCD was first reported in 2006. Regardless, this translates into thousands of dead colonies and millions of dead bees. In a country where honey bees contribute billions of dollars in added revenue to the agriculture industry, these bee losses cannot be taken lightly." Dr. Ellis recently released the following short video to discus bee colony collapse disorder.
0