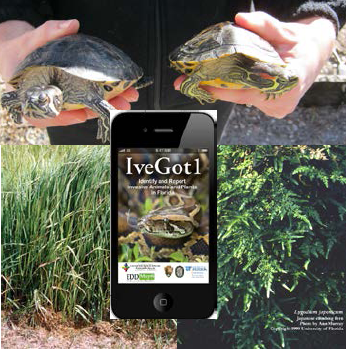 September 19, 2013; 9:00 am – 3:00 pm CT
UF/IFAS Jackson County Extension Office
Florida's Forest Stewardship Program and the Apalachicola Regional Stewardship Alliance CISMA will be offering an Invasive Exotic Species Identification and Control Workshop on September 19th at the Jackson County Agriculture Conference Center, 2741 Pennsylvania Avenue, Marianna, FL from 9:00 to 3:00 PM.
Many exotic plants are invasive weeds that form expanding populations on our landscape, making land management a challenge. Some exotic animals have also become a problem for land managers. The rapid and effective dispersal characteristics of these invaders make them extremely difficult to eliminate. This program will describe some of the more common and troublesome invasive exotic plants and animals in this region and current strategies to control them.
Tentative Agenda:
9:00 am Sign-in, meet & greet
9:15 Welcome & introduction, Brian Pelc, Apalachicola Regional Stewardship Alliance (ARSA) CISMA Chair, The Nature Conservancy; and Chris Demers, Forest Stewardship Coordinator, UF-IFAS School of Forest Resources & Conservation (SFRC)
9:30 Herbicide safety and application techniques, Pat Minogue, Associate Professor, SFRC
10:30 Break
10:45 Invasive exotic species ID and control techniques, Judith Ludlow, Extension Agent, UF-IFAS Calhoun County Extension Service; and Pat Minogue
12:00 pm Lunch
1:00 Available assistance, field demo, Rose Godfrey, Extension Associate, SFRC; Brian Pelc
3:00 Evaluation, CEUs, CFEs, adjourn
Register: A $10 fee covers lunch and materials. Please register on-line at http://fsp-workshop091913.eventbrite.com/. You can also reserve a space by contacting Jackson County Extension at (850) 482-9620. Pesticide Applicator Continuing Education Units approved: 2 Core, 1 Nat. Area WM; SAF Continuing Education hours approved: 3.0 hours Cat 1 and 1.0 hour Category 2. Filling fast – Register now. Directions to the facility are on the back. Please share this announcement with others who may be interested.
Download the printer friendly flyer: Invasive Species Workshop

0