Regardless of what the tag says one size does not fit all. As with clothing, a piece will undoubtedly be too large for some and too small for others. Trying to go with a "one size fits all" approach to lawn care will lead to the same kind of frustration and disappointment as an ill-fitting garment.
All turfgrass is not created equal. Thus management of our various turf species requires different methods. It is common for a homeowner to be unaware of what type of turfgrass they have – it's all grass after all – what difference does it make? Misidentification leads to problems because proper management for one type may be counterproductive to another type. In order to create a practical turf management plan, it is critical that the species of grass is properly identified.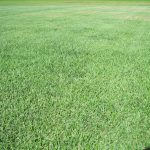 Why is it important to know the species of turf in a lawn?
Two of the most common mistakes extension agents observe is excessively low mowing height of St. Augustinegrass and over-fertilizing Centipedegrass. Both of these errors can reduce turfgrass vigor and decrease its tolerance to pest issues. Another potential maintenance pitfall is using a herbicide that is not labeled for use on a given type of turfgrass. Several popular herbicides available on the market can cause damage to St. Augustinegrass and/or Centipedegrass. Thus turf can be inadvertently killed by herbicides when they are applied to the wrong species.
Before a lawn maintenance plan is developed, be sure to know what type of grass is present and then follow UF/IFAS recommendations for proper care. If assistance is needed with identification, contact your local extension office.
To learn more about lawn care, visit this site or plan to attend "Caring for Your Florida Lawn" at the UF/IFAS Extension Bay County office on April 8th. For more details call 850-784-6105.
0