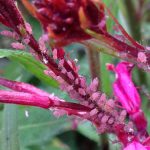 Every day, if I get home before the sun goes down, I like to walk around my garden and see how things are growing. At this time of year there are always new surprises in the garden – plants leafing out after a winter break, new flower buds and blooms, and of course sometimes garden pests.
My daughter and I collected some flowers last weekend and after they sat on the table for a few minutes I noticed pink bugs crawling around on the gaura stems. On further inspection I realized the stem was covered in aphids which made me go out to look at the entire plant. I found a prolific population
of aphids on the gaura and also lady beetle larvae hunting and eating the aphids! Instead of mixing up a bottle of insecticidal soap I decided to let the lady beetles do their job and just monitor the situation.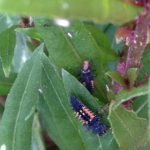 Five days later I went to show my example of natural biological control to a visiting friend and we could not find a single aphid on my plant. This may not be the typical response, usually I see some level of both predator and prey but in this instance the lady beetle did a fantastic job of controlling the aphids.
So, did they eat every last one? Probably not, they likely ate many of them and the others left the plant because the predator pressure was too great. However, either scenario saved my plant from severe damage which was the overall goal.
0